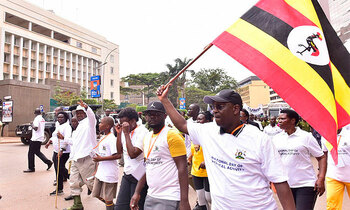 President Museveni took part in a 10km walk through Kampala on Sunday. (Credit: PPU)

HEALTH & FITNESS
KAMPALA - President Yoweri Museveni has advised Ugandans to eat well, urging people to avoid excessive eating.

"Avoid gluttony," he urged on Sunday, as he launched and took part in the National Day of Physical Activity at Kololo Independence Grounds.

Museveni said he has a heavy breakfast, a light lunch and very little supper.

"Personally, I have heavy breakfast because it is what will run my body in the day's course, my lunches are light because I want to avoid ulcers while supper rations are very little and consumed early in the evening.

"Avoid eating meals towards bedtime," the President told the nation.

He took part in a 10km walk through Kampala, which was targetted at highlighting and stemming the rising risk of non-communicable diseases (NCDs).

"In the past, on account of poor hygiene and lack of intensified immunisation, communicable diseases like polio and measles, were rampant.

"But the NRM government intensified immunisation and other interventions and most of these diseases are almost wiped out," Museveni said.
The Police band led the walkers, who included President Museveni. (Credit: PPU)
Museveni launches the National Day of Physical Activity on Sunday. (Credit: PPU)

'Exercise and eat well'

Development, he said, has given rise to diseases associated with lifestyle - due to inactivity and over-feeding.

"Forty percent of deaths today are due to NCDs, broken down as follows: 13% accidents, 9% heart diseases, 5% cancer, 3% diabetes and 10% others like sickle cells. Regarding sickle cells, I advise that you do tests before marriage to avoid having lifetime challenges," said the President.

"The good thing is that non-communicable diseases are easy to prevent.

"One simply has to change lifestyles, exercise and eat well. The increase in cases of cancer, diabetes and heart diseases, especially in urban areas is because people eat too much and do not exercise.

Museveni thanked the health ministry for initiating the fitness sensitisationd drive and called on Ugandans to interest themselves in health matters, "keep fit and avoid these NCDs".

Health minister Dr Jane Ruth Aceng was among the several gov't officials who joined the President and thousands of Ugandans for the inaugural national event.