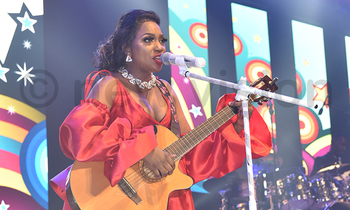 Irene Ntale vowed to give her fans her musical journey right from the start at her 'The Unchained' show that was held at Kampala Serena Hotel, Friday evening.
But by the end of it all, it was not really about her musical journey as it was about making a statement of intent that; you know what? I can now hold my own.
This is because, with exception of a few new songs like Stamina Daddy and the recent Miss Kateteyi, there was nothing dauntingly different about 'The Unchained' show from her maiden 2016 concert, apart from perhaps change of venues from Sheraton Kampala Hotel to Serena.
The new songs she has done since ending her record label contract with Swangz Avenue, last year, are quite good but have not really hit stratospheric heights as say Gyobela and Nkubukinze, for her to use as the selling point for her show.
So, to most of her fans that attended the show in their tens of hundreds, one can say they perhaps attended out of curiosity to find out how she is faring since going solo or just out of loyalty. And to Ntale, it worked like a charm. The timing of the show was perfect, after all there is nothing much going on with her competitors.
The show started a little late, 9:40pm to be precise, as they seemed to wait for the Victoria Hall to fill up. And there was not anything running on stage to keep early attendees engaged.
But right from the start, it was Ntale making a bold statement. Performances started with jumbotron screens on stage showing a clip of chains breaking in a thundering fashion. Statement that she is free.
Then Ntale got rolled on a smoky stage by her dancers in grand fashion. She emerged on stage on a rolling round platform with white bars, pushed by her dancers to the middle.
Dressed in a red asymmetrical split dress, the 29-year-old started off her show with 2016 He Go Down song off her Sembera album, amid loud screams from revellers. She was backed by 11-man band piece with instrumentalists like Jose Sax (saxophone), Myko Ouma (lead guitar) and Emmanuel Dragu (trumpet) among others.
Ntale followed up the first song with her cover version of Jamaican reggae star, Chronixx's Smile, a mid-tempo piece that was nuanced by guitarist Ouma's riffs before taking her fans through a catalogue of her other songs.
She was grateful to her fans that turned up in numbers and said in gasps of delight, "I am so happy you have come. It was a difficult year for me last year but I am so happy you have spared your time and even abandon some World Cup matches to come for the show. I am free"
Fenon's production was executed well, and Ntale's back-up dancers quite gripped the audience with their well-choreographed dance strokes. The blip, perhaps, on the night was, at times, Ntale's voice failed to pierce through her band's heavy instrumentation.
Amid intervals and changing outfits, a couple of upcoming singers performed like Janzi Band's vocalist Mercy. She was joined on stage by artistes Bebe Cool, Zulanda and Ray Signature on some songs.
The night clearly gave us Ntale holding her own and the show was done by midnight.