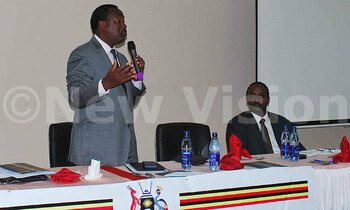 PIC: Science, technology and innovation minister Elioda Tumwesigye addressing editors and ministry officials at a breakfast meeting in Kampala on Tuesday. (Credit: Agnes Nantambi)

DEVELOPMENT

KAMPALA - The Ministry of Science, Technology and Innovation has called for the involvement of other ministries in the innovations system for Uganda to position itself in the ever-changing technological environment.

Dr. Elioda Tumwesigye, who heads the ministry, underlined that countries such as Japan have made giant strides because of science and technology.

He said Uganda therefore "had to start from somewhere", guided by the Vision 2040 as well as the National Development Plan (NDP) II.

At a time of technological revolution, science, technology and innovation (STI) has been pointed out as a driver of national development.

According to Tumwesigye, the sector is one of the fundamentals of Uganda's Vision 2040, which envisions a transformed country with upper middle income status.

The minister told editors and ministry officials at a breakfast meeting in Kampala on Tuesday that once the media understands the ins and outs of STI, it should be easier to convince the public to invest in the sector.
A cross-setion of guests at the breakfast meeting in Kampala. (Credit: Agnes Nantambi)

Uganda is predominatly an agriculture economy, with about 80% of the population dependent on the sector.

Tumwesigye said STI has a key role in such a society.

"With science, technology and innovation, you can create new firms to advance commercialised agriculture, among other things."

The minister said as one of the budding sectors, STI also contributes new knowledge and skills to other sectors.

"We had to support our scientists to actualise their innovations and promote their products for local, regional and global markets.

"Youths must be empowered in manufacturing for import-substitution, export-promotion and jobs," said Tumwesigye.

That's the very tone that President Yoweri Museveni has previously struck - more notably in his addresses to the nation.

His argument pivots around the push for local content so as to create jobs for Uganda's largely youthful population as well as generate incomes from exports.

According to Tumwesigye, Uganda's population is projected to reach 63.8 million by 2030.

But despite the East African nation's large demographic dividend, challenges remain. And as STI, Tumwesigye said "we must exist to address societal challenges".

Such challenges include access to cheap and sustainable energy, climate change mitigation, access to adequate water, food and health services, among others.

Vehicle assembly
Meanwhile, Prof Sandy Stebens Tickodri-Togboa (pictured above left) told the same meeting that Government approved a roadmap for a four-year project on vehicle making.

The expenditure is sh143b and already, as much as sh24bn has been allocated this financial year to Kiira Motors Corporation (KMC) - which Tickodri-Togboa is a leader of - to build structures for the start-up plant.

The three-phased project will see KMC strike key partnerships, expand its market as well as produce vehicles for export.

"By the end of the final phase, I hope we shall have contributed to the development of this country," the the former state minister for higher education and technology said.

KMC developed Africa's first electric vehicle in 2011 (Kiira EV), Africa's first hybrid vehicle (SMACK EV SMACK) three years later as well as a first solar electric bus (Kayoola Solar Bus) in 2016.

The company is now keen on building onto that success - by commercialising the Kiira Electric Vehicle Project, which Tumwesigye's ministry was tasked with supporting.

The assembly plant is expected to have an installed capacity of 5,000 vehicles annually.