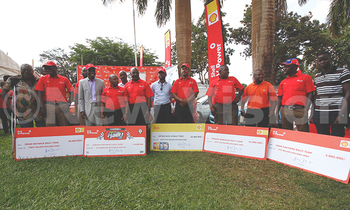 PIC: Participants stand with their blank chques. Vivo Energy Uganda, the lead sponsors have pumped sh110m into the contest . (Credit: Kasozi Balikuddembe)
MOTORSPORT
Shell V-Power Pearl of Africa Uganda Rally

July 20-21

KAMPALA - It is hard to imagine the African Rally Championship calendar without the all exciting V-Power Pearl of Africa Uganda Rally.

Over the years, there have been perpetual testimonies across the continent of how the meet contuse to light up the seven rounds of the continental championship.

The rally has presented the country with a grand advert especially in the confines of the rallying community in Africa.

Just like in the previous editions, the standard expectations are expected to be surpassed as more interest levels in the meet hit new highs.

"The event has given us more mileage as a hosting nation. The inputs are repaid in full and certainly it can only get better" said Dusman Okee, president Federation of Motorsport Clubs of Uganda (FMU)

The two-day meet which was launched Tuesday at Shell Bugolobi will have a total distance of 211.72 km. Day one will have the action at Busiika SS with day two at SCOUL Kayunga estates.

Christakis Fitidis (EVOX) Ronald Ssebuguzi (EVO X) Omar Mayanja (EVO X), Abaaasi Mayinja (Subaru Impreza), Timothy Gawaya (Toyota 2wd Starlet), Ashiraf Ahmed (Subaru Impreza) Godfrey Nsereko (2WD Toyota Runx), Brian Kabenge (Subaru Impreza) and Charles Sansa(2WD Toyota Sprinter) are some of the Ugandans that have already confirmed participation. Kenya's Manvir Bariyan is the defending champion.

Conversely Vivo Energy Uganda, the lead sponsors have pumped sh110m into the contest with a break down that includes direct sponsorship towards Arthur Blick, Ronald Ssebuguzi, Omar Mayanja and Umar Kakyama, a staff of Vivo Energy.

"We are commited to innovation through motorsport. We are delighted that our product continues to receive positive remarks and hopefully there is need to continue supporting motorsport" said Gilbert Assi, Managing Director Vivo Energy."