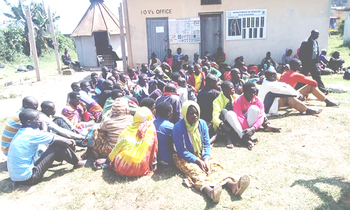 PIC: Rwandan immigrants shortly after their arrest. (Credit: Police)
IMMIGRATION

KABALE - Police in Kabale are holding 46 Rwandans in their cells for alleged illegal enter into Uganda.

According to the Kigezi Police spokesperson, Elly Maate, the suspects were intercepted from Kalita and Horizon buses respectively, on Monday evening along Kabale-Mbarara highway as they headed to Kampala and other parts of the country.

According to Maate, the operation to crack down the illegal immigrants was done in conjunction with Katuna immigration office. Katuna is located along the border of Uganda and Rwanda.

"They were from Rwanda to Uganda through porous entry points of Rubaya, Bigaga, Kamwezi and Bufundi,"said Maate.

He said the suspects claimed that they were heading to Bunyoro and Kijura tea plantation farms in Kabarole district for Labour.

"The operation was intelligence led and arrested 72 people and after screening, 26 women and children were taken by immigration to process their deportation back to Rwanda while the 46 will appear before courts of law," Maate noted.

Maate also said the people ought to pass through gazeted border points with relevant documents to access where they are from, where they are specifically going and for which purpose.