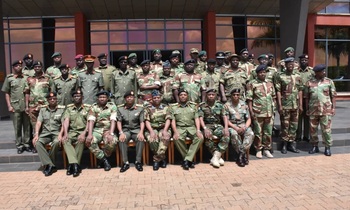 PIC: The visiting delegation from the Zimbabwe Staff College and UPDF staff at the Ministry of Defence and Veteran Affairs headquarters in Mbuya, Kampala
DISCUSSING PROSPERITY
KAMPALA- The UPDF Deputy Chief of Defence Forces Lt. Gen. Wilson Mbadi has called upon all Eastern Africa Partner States and their other regional fraternal states to refocus their efforts towards the building of stronger regional blocks for prosperity and transformation to dominate.

"The safest way to guarantee peace and security for Africa is political integration. Our strength is in integration," said Lt. Gen. Mbadi while addressing a visiting delegation from the Zimbabwe Staff College on behalf of the Chief of Defence Forces Gen. David Muhoozi at the Ministry of Defence and Veteran Affairs headquarters in Mbuya, Kampala.

A release from the UPDF headquarters quotes Lt. Gen. Mbadi saying consolidating peace and security in Africa, requires the urgent participation of all African states to create mechanisms (African Union, Inter Governmental Authority for Development, International Conference on the Great Lakes Region, and Southern African Development Community, among others) that can fight threats from extremists like the Allied Democratic Front (ADF), Al-Shabaab or any other form of criminality.

"Peace is a pre-requisite for socio-economic transformation and sharing of intelligence is equally important to mitigate asymmetric threats," he added.

He commended the visiting Zimbabwean delegation of senior officers (11 students and 10 directing staff), for choosing Uganda and assured them that the tour will strengthen further the co-operation between the two countries. Such visits build mutual co-operation, trust and re-awaken our focus on integration to have peace and development, said Lt. Gen Mbadi.

Responding to questions about Uganda and UPDF's journey to success from the Zimbabwe Staff College students, Lt Gen. Mbadi explained that Uganda's development is built on the tenets of strong ideology, Democracy, Pan-Africanism and a clear path to socio-economic transformation.

The Head of the students and directing staff from the Zimbabwe Staff College, Group Captain Winnie Mandeya on behalf of the Commander of Zimbabwe Defence Forces Gen. PV Sibamba, commended the Uganda Government for spear heading the campaign against poverty and thanked UPDF for securing the country for socio-economic transformation. She said the study tour will strengthen relations.

The function was attended by the UPDF Chief of Training and Recruitment Brig Willis Byarugaba, Chief of Personnel and Administration Brig George Igumba, Defence Spokesperson Brig Richard Karemire, Chief of Policy and Planning Brig Alex Olupot, Deputy Chief of Military Intelligence Brig Henry Isoke and the Director Human Rights Brig Charles Wacha Angulo, among others.