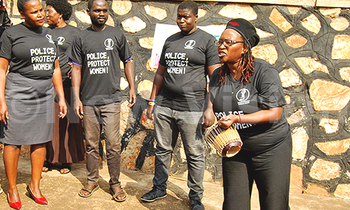 PIC: Women activist, Stella Nyanzi talking to other Activists during the press briefing on the Women match at Akina Mama Offices in Bukoto. The match is scheduled for Saturda, June 30. (Credit: Godiver Asege)
SECURITY

KAMPALA - Women activists on Friday re-echoed their appeal demanding for justice on the women murders and kidnaps that recently rocked the country.

Under their umbrella body, Women's Protest Working Group (WPWG) they demanded for action, tasking police and other security agencies to ensure effective investigation of the crimes.

At a press conference hosted at the offices of Akina Maama wa Afrika in Ntinda, Kampala, their spokesperson, Lydia Namubiru, said crimes against women should be treated with utmost importance.

Police records reveal that since 2015, at least 42 women have been killed around Entebbe, Wakiso and Kampala.

The recent murder was that of Suzan Magara aged 28. Her body was dumped between Kigo and Kajjansi off the Entebbe Express highway in February.
Her family reportedly paid a hefty ransom to her captors but they still killed her.

However, the women activists claim that all these cases are yet to be investigated to logical conclusion to bring culprits to book.
Women activists, Sanyu Hajjara and Stella Nyanzi demonstrating during the press briefing on the Women match due to take place Saturday. (Crfedit: Godiver Asege)

"Kampala is besieged by all manner of violent crimes from burglary, iron bar wielding groups, to high profile crimes.

"We are scared for ourselves and for our children. We feel let down and we feel that our lives are trivialised," Namubiru said.

They called for support to the families that have so far lost their loved ones.

Namubiru also stressed that the structure of police does not adequately prioritise women.
"Police leadership is almost exclusively men, which results in non-emphasis of crimes against women,'' she said.

Stella Nyanzi, noted that police had admitted gaps in their petition to police citing that when it comes to members in the top police command structure, only two women were in top positions.

However, police allege that when police advertises for jobs few women turn up to apply for the police jobs.