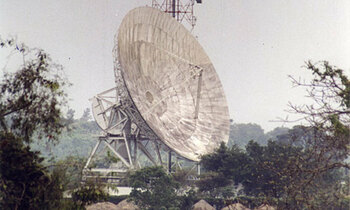 PIC: Satellite technology will not only be used for broadband but also for other purposes including aviation and military. (AFP)
KAMPALA - Uganda, Kenya, Rwanda and South Sudan have agreed to launch a joint Satellite project to ensure that the entire East African Community (EAC) has access to broadband services.
Leaders and representatives of the EAC member countries agreed to establish the joint satellite project during the 14 Northern Corridor Integration Projects Summit held in Nairobi on Wednesday.
President Yoweri Museveni attended the summit along with President Paul Kagame of Rwanda and Aggrey Tisa Sabuni, South Sudan's Presidential Advisor on Economic Affairs.
The joint Satellite project is intended to significantly expand access to telecommunication services for voice, data, video communications and internet.
Most of the countries have relied on fiber optic networks for broadband, which is considered expensive and often difficult to lay and maintain.
ICT Minister, Frank Tumwebaze, who was part of Uganda's delegation to the summit said connection to satellite was cheaper and would guarantee universal connectivity.
"We have agreed that we need satellites to complete our broadband roll out. Unlike the old satellite technology, the current one is relatively cheaper," he told New Vision.
"The fibre optic network may not work in some areas due to terrain, such as mountains and flood-prone regions, and satellite will help us reach all the areas that are not covered."
The EAC member states will conduct feasibility studies capturing their respective broadband needs.
The line ministers are expected to present their findings at the next summit in two months' time.
According to Tumwebaze, Satellite technology will not only be used for broadband but also for other purposes including aviation and military.
Boeing, Spacex talks
Tumwebaze confirmed that government had initiated negotiations with global aerospace giants Boeing and Spacex over plans to handle the satellite, although the regional effort appears to be preferred.
"They were meant to give us a proposal for us to look at. If the cost is affordable, then the ministry would forward to ministry of finance to enter into a public private partnership," he explained.
Meanwhile, apart from the agreed common Satellite for the region, the leaders reviewed progress made in immigration, trade, tourism, labour and services, single customs territory, mutual Defence cooperation, mutual peace and security cooperation and airspace management, among others.
The next Northern Corridor Infrastructure Projects Summit will be held in Rwanda. The 13 summit was held in Uganda's capital Kampala in April 2016.