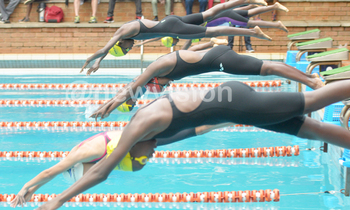 Dolphins Swim Club's Karima Katemba, Jordan Ssamula, Tendo Kaumi, Kirabo Namutebi, Tendo Mukalazi and Atuhaire Ambala topped their age categories to help their team win the USF national age group club championships at the Kampala International School of Uganda pool on Sunday.

Ambala, 17, a national swimmer who is based in Nairobi, brought a new dimension to the championship when he won all his races in the 15 & over category, giving perfect competition for his younger team mates, Adnan Kabuye, Tendo Mukalazi and Darren Ssamula.

He clocked 9:17.87, 2:19.13, 1:02.16, and 2:17.29 in the 800m, 200m IM, 100m back and 200m backstroke races respectively, relegating Adnan Kabuye and Tendo Mukalazi to second and third places in those races. But despite finishing second and third Kabuye and Mukalazi's time was within the USF event qualifying time.
Silverfin Academy's Selina Katumba (foreground) and Dolphins Kirabo Namutebi compete in the 200m freestyle race
Ssamula would go on to make 9:35.97 in the 800m freestyle before he clocked 2:32.64 to come first ahead of Ben Kaganda (2:42.70) in the 200m butterfly race. Silverfin White Ruben picked the bronze in 2:45.33.

Ssamula also picked gold in the 400m freestyle in 4:36.95, beating Kabuye by 4.57 seconds where Silverfin's Samora Lumonya made 4:56.94.

In the girls 400m race, the battle was between Silverfin's Selina Katumba and Dolphins Kirabo Namutebi where the former prevailed in 5:02.14, winning by 19.39 seconds, with Ahura Ambara making 5:59.34.

Namutebi had earlier opened her account when she beat Silverfin Academy's Mercedes Mwebeiha in the opening 800m race, where she clocked 11:00.43. Despite losing the 100m backstroke and 200m backstroke to Mwebeiha who registered 1:12.70 and 2:39.46 respectively Namutebi won the 50m breast in 36.03 and the 50m freestyle in 27.68 where Katumba and Mwebeiha clocked 28.72 and 29.49 respectively.
Dolphins' Karima Katemba in action during the USF National Clubs Swimming Championships at KISU
National team captain and national swimmer Avice Meya and Elisha Tibatemwa had less competition and produced golden performances in the 50m freestyle clocking 27.90 and 24.99 respectively which was faster and slower by 2.01 seconds and 6 microseconds than their 2018 Commonwealth games time.

The championship acted as a selection event for the Ugandan team to take part in the CANA Swimming Championships in Algiers in September and the 3rd Summer Youth Olympic Games, in October in Argentina and the CANA Zone 3 in South Sudan in November and the FINA World Swimming Short Course Championships 3 – 8, Hangzhou, China.

Individual Rankings

10 & Under Women

1-Karima Katemba (Dolphins) 142pts

2-Isabel Angemi (Silverfin) 131

3-Kayla Alinda (Silverfin) 122

10 & Under Men

1-Jordan Ssamula (Dolphins) 142pts

2-Yonah Lumonya (Silverfin) 134

3-Duan Chengze (Dolphins) 128

11-12 Women

1-White Heather (Silverfin) 154pts

2-Karla Mugisha (Silverfin) 142

3-Swagia Mubiru (Dolphins) 142

11-12 Men

1-Tendo Kaumi (Dolphins) 137pts

2-Abba Mayanja (Dolphins) 134

3-Arthur Tayebwa (Dolphins) 126

13-14 Women

1-Kirabo Namutebi (Dolphins) 158pts

2-Mercedes Mwebeiha (Silverfin) 114

3-Selina Katumba (Silverfin) 108

13-14 Men

1-White Ruben (Silverfin) 151pts

2-Samora Lumonya (Silverfin) 120

3-Ampaire Namanya (Silverfin) 106

Women Individual scores

Kirabo Namutebi 83

Selina Katumba 52

Mary Grace Banona 48

Men

1-Atuhaire Ambala (Dolphins) 72

2-Darren Ssamula (Dolphins) 67

3-Adnan Kabuye (Dolphins) 64

15 & Over Women

Avice Meya (Siverfin) 162

Rachael Galinda (Altona) 32

Davida Ruharo (Silverfin) 30

15 & Over Men

Tendo Mukalazi (Dolphins) 125

Adnan Kabuye (Dolphins) 124

Ben Kaganda (Dolphins) 99

Combined Team Scores

1. Dolphins 4782pts

2. Silverfin Academy 3083

3. Sailfish 383

4. Greenhill Orcas 334

5. Kampala Aquatic Club 282

6. Makerere University 187

7. Altona Swim Club 158

8. Gliders Swim Club 150

9. Baseline Swim Club 64