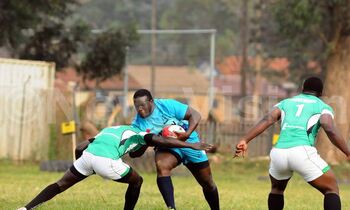 PIC: Pirates beat hosts Jinja Hippos 26-5. Pirates coach, Bob Musinguzi said winning two of the eight circuits puts him in a better position to plan for the coming challenges in the next series. (File photo)
Guinness Rugby 7s Jinja
Results
Final
Hippos 5 Pirates 26
Semi-final
Hippos 17 Kobs 7
Pirates 17 Buffaloes 5
JINJA - Pirates beat hosts Jinja Hippos 26-5 in the final over the weekend.
Players, Byron Kasozi, Isaac Massa, Conrad Wanyama and Haruna Muhammad managed a try each while team captain, Ivan Magomu added the three conversions.
David Wako scored Jinja Hippos consolation try.
The games were held at the Dam Wterz club in Jinja on saturday June 23, 2018.
Pirates coach Bob Musinguzi said after the game that winning two of the eight circuits puts him in a better position to plan for the coming challenges in the next series.
"This win is very important to us. We have got six more circuits to come but there are lots of challenges as some players will be taken by the national team. So the more points we have the better," Musinguzi said.
To reach the final Pirates defeated Toyota Buffaloes 17-5 while Jinja Hippos upset Betway Kobs 17-7 in the final.
Hippos team captain, John Echweru said that reaching the final is a big boost for them to fight for a win in the next series which is the Toyota Buffaloes series at Kyadondo Rugby Club on Saturday.
Toyota Buffaloes, Pirates Rujumba Memorial, Rhinos' Coronation 7s, Kobs Kitaka Memorial, Mbarara 7s and Flood Light 7s bare the remaining six series to go.
Teams accumulate points in every serie and the one with the highest point at the end emerges the National champion.