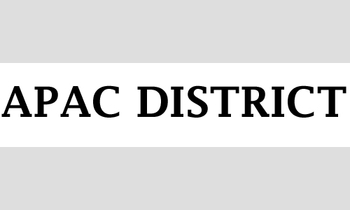 Apac District Local Government invites sealed bids from interested and competent Companies /Firms to be pre-qualifi ed /short listed for works, Services and Supplies and Annual Frame work contracts for the Financial Year 2018/19.
SUPPLIES:
1: Supply of Ordinary and Executive Offi ce furniture and fi ttings for Schools and Offi ces.
2: Supply of Offi ce Equipments and tools eg computers, printers, copiers, and accessories.
3: Supply of Agriculture, Poultry, Veterinary &Apiculture inputs and related requirements, improved seeds, Livestock and Poultry.
4: Supply of Motorcycles.
SERVICES:
1: Repair and maintenance of District vehicles.
2: Auction Service.
WORKS:
1: Construction of boreholes (Construction and installation of deep wells and shallow wells).
2: Rehabilitation / major repairs of boreholes.
3: Civil works (Construction & maintenance of buildings, Pit latrines, Ecosan toilets, etc).
FRAME WORK CONTRACTS:
1: Supply of Fuel, Oils and Lubricants (diesel, petrol, grease, oil, etc.)
2: Supply of printed materials and assorted offi ce stationery.
3: Supply of computer and printer consumables eg toner.
4: Secretarial Services (printing, binding & photocopying services).
5: Supply of construction materials (cement, wheel barrows, Concrete Culverts, Gravels etc).
Bidding will be conducted in accordance with the bidding procedure contained in the Government of Uganda's Public Procurement and Disposal of Public Assets Act 2003.
Interested eligible bidders may obtain further information from Apac District Local Government and inspect the Pre-qualifi cation and Frame work contract documents from the Procurement and Disposal Unit on working days of Monday to Friday from 8:00 am - 5:00 pm.
The original document, written in English may be purchased by the interested bidders up on payment of a non refundable fee of UGX 50,000/= on Account number 9030005607409 "Titled Apac General Fund, Stanbic Bank Apac Branch."
The documents will be received from the Procurement and Disposal Unit on working days (Monday to Friday from 8:00 am - 5:00 pm) upon presentation of the General receipt/ bank slip acknowledging payment of the non refundable fee.
CLICK HERE FOR MORE ON THIS NOTICE