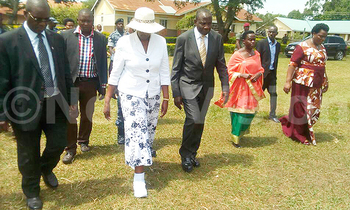 PIC: Education Minister Janet Museveni inspecting the children's stalls during the Day of the African Child in Kibaale on June 16, 2018. (Credit: Sarah Kisakye)
KIBAALE - The Minister of Education and Sports as well as First lady, Janet Museveni appealed to district leaders, the community, local Government and the school management to hold regular meetings to ensure security and education of the children.
"I would like to appeal to local, Religious and political leaders in the various districts to sit on a regular basis and explore ways and discuss issues affecting our education and children welfare.
The First Lady made the remarks while presiding over the Day of the African Child on Sunday, June 16 at Kirigwajjo SSS in Kibaale district.
PIC: Pupils, matching with their teachers during the celebrations in Kibaale district.(Credit: Wilfred Sanya)
This year's celebrations were held under the theme, "Leave No Child Behind for Africa's Development."
Museveni said that parents should take on their responsibilities rather than leaving them to the Government and teachers.
Children displaying crafts during the event. (Credit: Wilfred Sanya)
She appealed to the people to work together to have a positive change for the country.
"Let us bring a smile to our children. When you see a smile on a child you will see the smile of God in your face. Let's explore ways of investing in the children," said Museveni.
She also added that all children deserve to be protected until they grow up. Saying that when you educate a child, you educate the nation.
A cross section of pupils from St Julie nursery school attending the celebrations.(Credit: Wilfred Sanya)
Students entertaining people during the Day of the African child celebrations. (Credit: Wilfred Sanya)
"Government is doing everything possible to see that children grow into responsible citizens. So it is better we worked together as a whole big community to support the Government in this cause.
"Parents should also prepare food for children going to school other than leaving them to stay hungry. Children need to be provided with nutricious food to grow well."
Mrs. Museveni also critised people who have continued to use bad images when they talk of Africa. Saying that as Africans, we should look at areas which will bring our children out of shame.