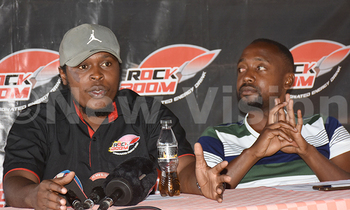 PIC: Yusuf Bukenya (left) address the media during a press confrence at Lugogo as Unisan Bakunda looks on. (Credit: Johson Were)
KAMPALA - Rally drivers have launched the fundraising campaign dubbed "Send dusty back to action" to raise USD45, 000 (sh170m) that will enable rally driver, Yusuf Bukenya buy another car.
Bukenya, popularly known as Dusty and navigated by Frank Sserugo during the Fort Portal last month had their car, Mitsubishi Evo 9 burnt to ashes as they escaped the fire with bruises.
During a press briefing held at National Council of sports Lugogo on Monday, Unisan Bakunda appealed to the public to support Bukenya because the future of rallying lies in the young generation.
"Just like any sport in the world, the future of any sport lies in the young generation and Bukenya is one of the upcoming drivers that was not only giving the experienced guys a run for their money but an entertainer to the fans," Bakunda stated.
"Three years in active rallying, Bukenya has proved that he is the future champion and we have decided to solicit funds and get him a new car," Bakunda, who is currently second on the national rally championship added.
Bukenya also echoed Bakunda's words further saying, "I do not know any sport in this country apart from motorsport and I will appreciate any support to bring me back on the track."
At the moment sh15m has been pledged with rally drivers including Dan Kyembe, Suzan Muwonge, Frank Tatya, Badru Kayemba, Fred Kitaka, Byron Rugomoka, Swaibu Kikati and Derrick Sserunjogi raising sh7.5m.
Peter Asimwe, the CEO PETRELLI links and Export pledged USD3000 (sh11.5m).
Bukenya added that any contribution should be made to DUSTY RACING TEAM .A/C NO: 9030014845797 in Stanbic Bank.
He also added those using mobile money should send the contribution to numbers 0701046491 Or 0783621938 in the names of Frank Kahesi.