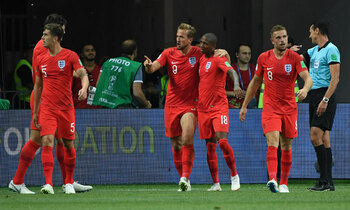 2018 WORLD CUP - FOCUS ON AFRICA

Live reporting by Joseph Kizza
@joekizza

________________________________



11:07pm Bye-bye!

That's it for tonight. Let's meet up here again tomorrow. Stay on this very website for more related stories.

Cheers!
11:05pm Trending 'late'

There is a theme taking a strong place in this Russian edition: Late goal scoring.

We love such late drama - well, only if you are a neutral or on the winning side.

That said, you may want to know that six goals have been scored from the 88th minute onwards. Four of these six goals have been in stoppage time. And one of these four goals was scored in the Tunisia v England match.
11:02pm Kane's brace at World Cup debut

Earlier, I did mention that England has never lost with Harry Kane as captain.

The 24-year-old attacker made sure that record lives another day as he pounced late on to break the hearts of the Tunisia - and at the same time lift those of his camp and compatriots.

It also means he has bagged a brace on his first appearance at the World Cup.

Oh, and by the way, the England skipper also netted two stoppage time winners to help England qualify for Russia.

Lethal!

Specialist!

FULL TIME - Tunisia 1 England 2


That is it. England have snatched a late winner. Gareth Southgate and co celebrate as the inconsolable Tunisians struggle heavily off the pitch.

For the third time in Russia, an African side has lost towards the very end of the game.

Clearly not the kind of first round that Africa wanted on such a global stage!

90min (+1) GOAL! - England


What a sting in the back!

It is Harry Kane again!

A late corner is whipped in by Kieran Trippier, teammate Harry Maguire nudges the ball with his head, before the ball falls kindly to Kane, who twists a bit to nod home what is surely the winner.

Heartbreak for Tunisia.

Heartache for Africa - again.
90min FOUR MINUTES OF ADDED TIME

And England get a corner.

Could this be the moment?

We have seen African sides agonisingly concede late on.
87min Tunisia hold firm, England push

England are pushing for that all-important goal. The winner. Tunisia are not burging. A draw will do for the Africans.
84min FINAL SUBSTITUTION - Tunisia

The minutes are getting chalked off the referee's watch real fast. And with six minutes to go, Tunisia decide to bring on some fresh legs in the form of Saber Khalifa.

The 31-year-old replaces captain Wahbi Khazri, who is urged on by the referee to make his exit quicker than he was cunningly willing to.
79min SUBSTITUTION - England

Surprise, surprise?

Dele Ali's game comes to an end.

Gareth Southgate and co decide to slap on Chelsea man Ruben Loftus-Cheek.

Time is running out for England.
78min Over the bar

England have a freekick just outside the area.

Ashley Young stands over it. A thick wall forms in front of him and the goal. The Manchester United winger sizes up his reach not far off the ball. The crowd holds its breath.

Then breathes once the 32-year-old sends his effort several inches over the bar and into the crowd.
73min SUBSTITUTION - Tunisia

It is that time of the game when we see these reforms coming in often.

It's Tunisia's time now to make a change. Naim Sliti is off, and on comes Mohamed Ben Amor. We have 17 minutes more of playing time (minus injury time, that is).

By the way, in this half, Tunisia have barely troubled the Lions at the back. Clearly, it is a defensive mindset for the north Africans.
67min SUBSTITUTION - England

A weary-looking, sweat-drenched Raheem Sterling will have to make way for a fresh-looking Marcus Rashford.

The two youngsters, who play their club football on opposite teams of Manchester, trade places here in the south of Russia.

Can one do what the other has failed to do?


61min England's clean sheet

By the way, England have never lost to African opposition at the World Cup.
55min Can Tunisia make something out of this?

Again, the likes of Sterling and Ali are knocking hard on the Tunisian back door. But, that door won't burge open.

Can the Eagles catch them on a counter?
50min England probing

You haven't missed much.

England are still pushing their men forward - ever deeper into the opposition's half. But, just like in the other half, they have failed to fashion a meanigful breakthrough.

The Africans should be credited for their discipline at the back. Solid.

KICKOFF! - Second half

The second stanza of this enthralling is under way - almost the way it started in the first half - with England right away on the front foot.
9:51pm The stats

The first half has ended with England enjoying more ball possession - 59% against Tunisia's 41%.

The Lions had 12 attempts on goal while the Eagles had only four. England was also superior in passing accuracy (88% v Tunisia's 81%).

But the blemish on Southgate's side was that yellow card that Kyle Walker picked in the lead-up to the penalty. It was the only card awarded in the entire opening half.

HALF-TIME - Tunisia 1 England 1


The referee's whistle brings an end to what has been an entertaining half. Wow!

Will England rue their several missed opportunities before that equaliser? There was a lot of profligacy from the Three Lions and they should have buried this one in the first half.

On the other hand, Tunisia will return for the second-half feeling pretty much re-energised after enduring a torturous opening 20 minutes.
44min CLOSE! - England

Another surge forward and Sterling, who is in an offside position, sees his effort roll off against the woodwork.
40min England still dangerous

England may have conceded a goal, but they still carry so much threat. The likes of Ali, Lingard, Young and Sterling are a menace for the Africans' back.

Southgate is unsettled on the sidelines. He wants his side to respond before half time.

35min GOAL! - Tunisia


Tunisia 1 England 1.

Game on!

Ferjani Sassi steps up to the task at hand, before slotting coolly past Jordan Pickford, who gets a finger to the ball put is just not good enough.
That's Africa's first goal of this tournament - scored from the eighth penalty of the competition. (Six of the penalties awarded so far have been converted, while two have been missed, Argentina's Lionel Messi being a culprit).
33min PENALTY! - Tunisia

Tunisia are awarded a penalty.

That was reckless from Kyle Walker, who appears to have knocked Fakhreddine Ben Youssef with his elbow inside the box.

The Tunisian hits the ground as a result, before rolling in agony.

Penalty!, goes the whistle as the referee points to the spot. Tunisia celebrates.

Meanwhile, Walker goes into the referee's book for that careless challenge.


29min CLOSE! - England

Harry Maguire would have added more punch to that header to beat Tunisia's substitute keeper.

England get a corner about 40 yards out after Dylan Bronn is adjudged to have handled the ball during a clash with Dele Ali. Once the kick is taken, Maguire, found in a good position, nods the ball into the hands of Mustapha.
23min Flashes of a comeback?

The Eagles of Carthage appear to have started picking themselves up from what has been an opening minutes to forget.

In a rare push forward, the Africans get a corner - but it comes to nothing once it is taken.
18min Captain Fantastic!

How about this for a statistic:

England have won all their games when Harry Kane is the captain.

From the evidence of what is going on inside the Volgograd Arena at the moment, looks like history is daring to repeat itself.
15min SUBSTITUTION - Tunisia

Things are falling apart here for Tunisia.

Looks like the earlier injury has gotten to their Number One, who has to limp off the pitch in tears. A teammate is trying to console him off the turf, but it is a disappointing early exit.

Farouk Ben Mustapha is the man that replaces Hassen inbetween the posts.

11min GOAL! - England


It is captain Harry Kane.
So far, it has been all England. And the Three Lions are gifted another corner. This time, it is coming from the left. John Stones rises highest to head goalwards, but keeper Hassen blocks it right from the line. Kane, however, is in the right place to connect home.

What a poacher!

What a prolific striker!

Tunisia 0 England 1.



06min CLOSE! - England

Another counter-attack, and again, it's England.

The industrious Ali is once again the architect - he threads a pass down left to Lingard, who slices the ball across to Raheem Sterling, but the 23-year-old cannot connect.

The flag is up, nevertheless.

Tunisia's goalkeeper Mouez Hassen is injured.
03min CLOSE! - England

What a start from Gareth Southgate's men!

They have certainly hit the ground running, surging forward like they mean all the business there is in Russia.

An early attack sees Jordan Henderson in flight, he then connects into the box. The pass is hastily blocked, before it is flashed back by Dele Ali and meets Jesse Lingard, whose goal-bound shot suffers a deflection out for a corner.

KICK-OFF!


And we are underway!
8:56pm All eyes on you, Tunisia

Africa's top-ranked side, Tunisia, will be carrying the hopes of many on the continent for a first win - and even goal - at the tournament.

Egypt, Morocco and Nigeria have already played their opening games, and all of them have, unfortunately, lost and not scored a goal.

The teams are out and the athems are under way.

Tunisia's anthem first and England's follows.
8:48pm Warming up

The teams are done with their respective warm-up sessions. It is a cheerful atmosphere inside the stadium. The fans are singing on as the adrenaline rushes inside the players' bodies back in the dugout as they prepare to re-emerge before the vibrant crowd here in southern Russia.
8:42pm Warm Volgograd aura

It is good vibes around the Volgograd Arena as we await kickoff.

Get set for some dollop of footballing action.
8:38pm Similarities . . . 20 years ago

Tunisia and England have not met often. In fact, they have previously faced off at a competitive level only once - 20 years ago.

And how about this for coincidence: That was in the opening game of Group G at the 1998 World Cup finals in France.

The date was June 15.

Alan Shearer and Paul Scholes were the scorers of the two goals.

Current England coach Gareth Southgate made his World Cup debut in what was his only start in the tournament.
If you need some bit of help with who is in the picture above . . . that's England's Sol Campbell vying for the ball with Tunisa's Adel Sellimi
8:30pm Naughty lads

They were drunk and they turned unruly on a train headed for the city of Volgograd. And so for their naughty behaviour, two England fans were charged with minor offences by Russia.

"One fan was taken to hospital after cutting himself on a carriage door, while another who tried to leave the train was detained and charged with disobeying a policeman's orders," the AFP reports.
8:27pm A look at Group G

By the time Tunisia v England kicks off at 9pm Ugandan time, both teams will have gotten to know what the group now looks like.

Earlier, Belgium, considered the dark houses of the tournament, comfortably beat Panama 3-0 to top Group G. Manchester United forward Romelu Lukaku netted two of those three goals.
8:23pm Where we are

This Group G encounter is set to be played at the Volgograd Arena, the home of FC Rotor Volgograd. This is the first of four 2018 World Cup matches the stadium is hosting.

And from an African point of view, you may want to know that Nigeria will face Iceland here on Friday, as will Egypt against Saudi Arabia three days later.
8:20pm Welcome!

Hello and good evening from wherever you are following from.

Welcome to this live page, where we return with our attention on Africa at the 2018 World Cup taking place in Russia. Tonight, we shall have Tunisia playing England.

Stick with us here.