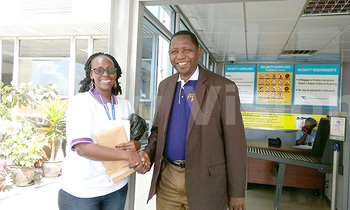 PIC: Ntagali with the Africa 1 Tours & Travel chief executive officer, Paula Nahamya, at Entebbe International Airport. (Credit: Carol Kasujja)
RESTORATION OF THE BIBLE
ENTEBBE- The Archbishop of the Church of Uganda, Stanley Ntagali, has led a delegation of 230 Anglican leaders and their wives for the third Global Anglican Future Conference (GAFCON) in Jerusalem, with the aim of reviving biblical faith and fighting sexual immorality.

GAFCON was founded in 2008 as a global family of authentic Anglicans standing together to retain and restore the Bible at the heart of the Anglican Communion.

The global conference that started on June 17, attended by Bishops and professors from across the globe, is set to end on June 22. The theme of this year's conference is: 'Proclaiming Christ Faithfully to the Nations.'

Addressing journalists at Entebbe airport, Ntagali said they want to see that the biblical faith spreads like revival throughout the whole Anglican Communion, so that global Anglicanism is brought back to its biblical and evangelistic faith.

"I am happy to be leading other bishops from the church of Uganda. It is even more fulfilling that this time we are going to be part of the anniversary to celebrate 10 years of our existence, as an orthodox movement within the Anglican Communion. We are going to study more of the Bible. The world has changed, but the word of God does not change. We are calling upon all believers to continue reading the Bible so that they understand it more," said Ntagali.

He was optimistic that the 600 Anglican Church leaders travelling from Africa will at the end of the conference be spiritually energised to continue standing firm against secularism.

In his message, Reverend Canon William Ongeng, the provisional secretary of the Church of Uganda, said the conference will help them to review how the teaching of theology in the different institutions can be improved to ensure that there is an impact to lives of the people.

"We are going to discuss the real factors in the theological world, including what we have to improve and what we have to eliminate so that we have a better impact on the communities we are working in. These days some leaders do not preach the true gospel of Christ, yet that is what we are called for. The teaching that we preach should impact on the morals of society so that people live as one," said Ongeng.

Paul Nahamya, the executive director of Africa 1 tour and travel agency, which is responsible for the bishops' tour, said after the conference, the clerics will be taken on a historic tour of the pyramids in Egypt, St Catherine and Mt Sinai, among other holy places.