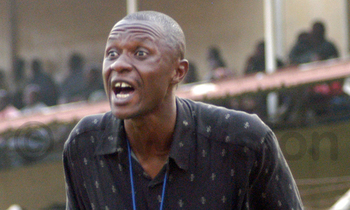 PIC: KCCA FC coach, Mike Mutebi dismissed any allegations of having interest in signing Onduparaka's captain, Rashid Toha. (File photo)
KAMPALA - Coach Mike Mutebi has dismissed allegations that KCCA FC is interested in the signing of Onduparaka captain Rashid Toha.
"I want to flash out this rumor that has been going around that am interested in Toha Rashid. Am not interested in him since he is the main man at Onduparaka and the project is around him, "stated Mutebi.
He added,"We can't afford to distract Toha so that should be closed. Toha the captain of Onduparaka is there to stay though he is KCCA FC fan. May be we can think about that later ".
Mutebi flanked by his new captain goalkeeper Charles Lukwago reacted at press briefing today at Lugogo were Palliative Care Association of Uganda (PCAU) entered into a partnership with Onduparaka FC and KCCA FC to support New life Hospice Arua to establish a permanent home.
Palliative care is an approach that improves the quality of life of patients and their families facing problems associated with life-threatening illnesses such as cancer.
KCCA will host Onduparaka in the charity game this Saaturday at StarTimes stadium,Lugogo.
After the weekend, KCCA will have to travel to Arua for the second game that will be played at Green Light stadium on June 30.
The two events are expected to raise sh500m, which is the estimated cost of establishing the first building for New life Hospice Arua with its facilities.
The building will house a patient's waiting room, three office rooms and hostel capacity for at least 20 cancer patients receiving treatment at Arua Regional referral Hospital and patients in transit after referral to Uganda Cancer institute (UCI).
But they will also be a fundraising cocktail at Startimes stadium, Lugogo after the first charity match to also help to generate income for the cause. To be part of the dinner you have to pay sh50000.