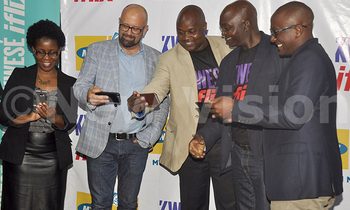 PIC:MTN Chief Marketing Officer Olivier Prentout (2nd left) joins Kwese Country Manager Julius Mucunguzi (centre) Kwese Business Engagement manager Blessmore Chibanda and PRO Collins Mugume (right) in launching the Iflix Mobile App on their phones at the Square, June 12 2018. (Credit: Michael Nsubuga)
KAMPALA - More Ugandans will be able to watch the 2018 FIFA World Cup wherever they will be following the launch of Kwese iflix, a premier digital entertainment platform that has been enabled in partnership with MTN.
The smart phone app will enable customers not only watch 32 games of the World Cup but they will also be able to live stream and download a number of video-on-demand and downloads that they can watch later.
Addressing the media during the launch at the Square in Industrial Area on Tuesday, alongside Kwese Business Engagement manager Blessmore Chibanda and PRO Collins Mugume, Kwese Country Manager Julius Mucunguzi called the development a big achievement that will enable people of all classes to watch the World Cup from wherever they will be.
"Kwese iflix app is aimed at becoming the core vehicle to deliver seamless mobile experiences to millions of viewers," Mucunguzi said.
"You can subscribe for one, three, seven or thirty days for sh2100, sh3600, sh7200 and sh14400 respectively or opt for 2, 4, 6, 12 or 24 hours at sh1600, sh3200, sh4800, sh9 600 and sh19200 respectively; this is flexibility, on top of this you are entitled to Kwese free sports," Mucunguzi remarked.
Chief Marketing Officer, MTN Olivier Prentout said watching the World Cup on a mobile phone is part of the revolution that is happening in the smart phone world.
"Fans are going to be able to watch the World Cup from everywhere they go and on the go since some of the games are going to be played in the afternoon,"
"We have introduced a mobile TV platform and that is where we come in and consumers will be able to enjoy discounted time-based TV bundles when they need it by accessing the TV bundle menu on their devices," Prentout said.
"These bundles are much cheaper than the normal data bundles making it more affordable for our customers to enjoy great entertainment on mobile,"
The World Cup that starts on Thursday returns to Europe after 12 years as Russia hosts the tournament for the first time - becoming the 17th nation to welcome it to their home soil.
Russia beat out joint bids from Portugal and Spain, as well as Belgium and the Netherlands to be granted the right to host the competition.