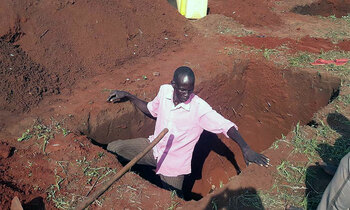 PIC: The grave being prepared ahead of Monday's burial. (Courtesy photo)

ARUA - There is reported relative calm in Arua town ahead of Monday's burial of slain Arua Municipality MP Ibrahim Abiriga.

This follows chaotic scenes on Sunday in Arua when the bodies of the legislator and his brother were flown to their home town on Sunday. It was pandemonium as rowdy mourners clashed with security and forcefully took the caskets out of the funeral vans.

Property was destroyed during the fracas that shook the town.

Early Monday morning, Police took Abiriga's body and his brother's to their ancestral home in Rhino Camp, where the burial would take place.

This was done to avoid a repeat of the chao witnessed on Sunday.
The special prayer that was supposed to be conducted at Arua Primary School playground was also called off.

There was heavy Police and army deployment at Abiriga's residence in Lukuda village.


Abiriga, best known for expressing allegiance to the ruling NRM party by wearing yellow attire from top to bottom, was gunned down by unknown people inside his car on his way to his home in Kawanda, Wakiso district.

At the time, he was with his younger brother Said Butele, who had just returned from Somalia for a military mission.

Parliament held a special sitting on Sunday to honour the fallen legislator, who joined the House in the 2016 parliamentary elections.

Tributes continue to flow for Abiriga and his brother as investigations into their brutal murder continue.

President Yoweri Museveni is expected to attend Monday's burial in the northern part of the country.