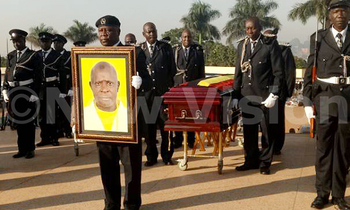 PIC: Abiriga's casket arrives at the Gadaffi Mosque, Old Kampala on Sunday morning. (Credit: Farooq kasule)
KAMPALA - Arua Municipality Member of parliament, Hon Ibrahim Abiriga's, body has been taken to the Gadaffi Mosque on Old Kampala, Sunday morning.
Prayers shall be conducted as fellow Muslims and Ugandans at large send off the late who was shot dead on Friday evening.
Uganda Muslim Supreme Council administrators waiting to recieve MP Ibrahim Abiriga's body for prayers on Sunday morning. (Credit: Farooq Kasule)
Abiriga's casket carried into the Gadaffi Mosque on arrival. (Credit: Farooq Kasule)
Abiriga's casket together with that of his bodyguard laid inside the Gadaffi Mosque for prayers. (Credit: Farooq Kasule)
The car that transported Abiriga's body to the Mosque. (Credit: Farooq Kasule)