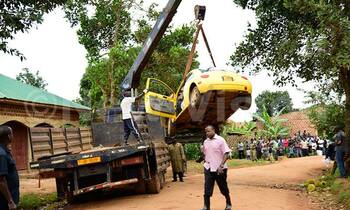 PIC: Abiriga's car being towed away
ARUA - Preparations are on going at the home of Late Ibrahim Abiriga.
The Arua Municipality Member of Parliament was shot dead on Friday evening while heading home in Kawanda.
Chaired by Genesis Acema, the LCV VICE Chairman Arua, a committee has been formed and burial will be on Monday at his ancestral home in Rhino-camp in lower Madi, Arua.
Acema while reading the programme to mourners said the body will be taken to Muslim supreme council Kampala and later to parliament before it is flown to Kololo where his brothers' body the bodyguard will be picked.
There after, the body will be flown to Arua on Sunday at 2pm. Arua municipality voters will pay their last respect on Sunday before the body is taken to Rhino-camp for burial.
Parliament has budget for 1500 people ahead of the burrial arrangements.