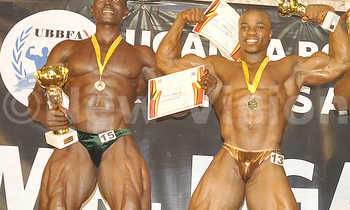 PIC:Derrick Olala (left) and Anatoli Kato get chance to win their first championships at the Mr. Kampala championships. (Credit:Michael Nsubuga)
KANSANGA - The Mr Kampala Bodybuilding championships are scheduled for Saturday at the International University of East Africa (IUEA) (former Didis World) auditorium in Kansanga.
Defending champion Isaac Mubikirwa will be out of the picture following the recent restrictions aimed at opening up competition at the base, so that more musclemen are encouraged to compete at the highest level, competition is expected to be at its highest.
This offers an opportunity to the likes of Lameck Muwanga, Derrick Olala, Bernard Byekwaso, Hassan Lumala, Godfrey Lubega, Sam Kalema, Anatoli Kato and Enock Galiwango who have been closer in past competitions a chance to take over the mantle.
Nasif Ssenkubuge, Daniel Mwesigwa and Godfrey Waiguta are also expected to fight for positions in the different categories, in the event that is expected to attract over 100 musclemen.
According to Uganda Bodybuilding and Fitness Association (UBBFA) president, Twaha Ddungu, the prejudging that will be done in the morning will leave only the top forty in contention in the seven categories; Light Weight, Middle, Heavy weight, Bantam, Welter weight, Light Heavy and Heavy.
Hassan Ssematimba the Marketing Manager of IUEA who offered the auditorium that sits over 2000 people said they were convinced to partner with UBBFA because one of their visions was to not only give accessibility and affordable education to Ugandans and Africans but were also trying to identify talent and get involved in sports.
The event is sponsored by IUEA, Mukwano Industries, Kwese TV, University of Pain and Body Temple Gym.