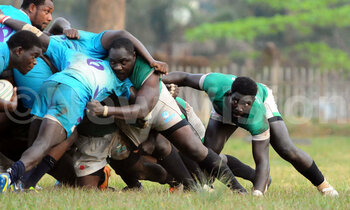 PIC: Some of the teams expected to play in the Hima Heathens rugby Sevens tournament include the Hima cement Heathens, Kobs, Pirates, among others. (File Photo)
KYADONDO - Rugby giants, Hima Heathens will host the first leg of the Guinness Rugby Sevens tournament this Saturday, during the Heroes' Day weekend.
The number of circuits in this series has increased from six to seven.
Fifteen teams are expected to participate in the tournament that is billed to attract hundreds of fans to Kyadondo Ruby Club.
Some of the teams set to play are Hima Cement Heathens, Toyota Buffaloes, Kobs, Pirates, Rhinos, Mongers from Entebbe, Hippos from Jinja, Walukuba from Jinja and Stallions.
Each game is fifteen minutes with each half going for seven minutes.
As the official sponsor of the Hima Heathens Rugby team, Hima Cement is set to turn Saturday into a full day carnivore involving music, food, drinks and the popular sport.
Hima Cement will also be holding severalchallenges including the Hima Dash and Hima Kicking Challenge for rugby fans to participate and win Hima Cement goodies including jerseys, bags of cement and so much more.
Through its sponsorship of rugby, Hima Cement wants to ensure that the tournament acts as a platform for growth of the sport in Uganda and beyond borders.
Gates will open at 8:00am with entrance going for sh5,000 only.