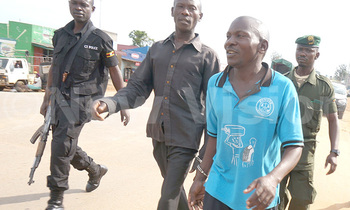 Joseph Mugerwa and Ronald Naduli being led to Mbirizi Police Station. (Credit: Davis Buyondo)
POACHING
By Davis Buyondo
LWENGO- The police in Lwengo district are holding four people for being in possession on more than 500kg of beef suspected to be of eland antelopes.
The suspects including Ronald Naduli, Joseph Mugerwa, Abdul Nyanzi and Ben Sseremba were arrested on Wednesday evening while their accomplice Ronald Musinguzi managed to escape.
A Toyota Premo, registration number UAM 423X, was intercepted at Mbiriizi town on its way to Kampala and the meat seized.
The suspected poachers ran out of luck when their car broke down. Keen bystanders tipped Police after seeing blood dripping underneath the car trunk.
Plain-clothes detectives inspected the vehicle and discovered the wild meat said to have been poached from Lake Mburo Game Park in Kiruhura district.
Game rangers from the park arrived at the scene and confirmed it was antelope meat. They told Police that the suspects used guns to poach at least four animals.
George William Mutabaazi, the Lwengo LC5 chairperson, intervened saying it was due to people's vigilance.
He said, according to intelligence information, the same car had been used to transport wild meat and they have been tracking it for over four months.
He said the poachers often use illegal guns to kill wild animals and to terrorise communities. He added that they smuggle wild meat through Lwengo, Rakai and some parts of Sembabule to Kampala.
Harriet Nakamya, the Lwengo Resident District Commissioner (RDC) appealed to police to recover the guns and other tools used in poaching.
However, she added, they are collaborating with intelligence in other districts to track the poachers and arrest the racket.
The law prohibits poaching unless with permits and licenses which the suspects did not have during arrest.
A wildlife official from L. Mburo, who preferred anonymity, said elands, zebra, impala, defassa waterbuck and reedbuck are the most poached animals in L. Mburo Game Park.
He added that the practice affects the tourism sector which attracts foreign exchange.
He said that several cases are investigated while majority have already been prosecuted.
However, the suspects declined to speak in the presence of reporters, but later told Police they are were transporters and not poachers.
In July 2017, the army intercepted consignments of illegal fish, monkey and baboon meat which had been destined for Democratic Republic of Congo.
According to the Ministry of Tourism, Wildlife and Antiquities' annual tourism sector performance report 2016/17, tourism is so far Uganda's leading foreign exchange earner, bringing in $1.4b.
Meanwhile, the suspects are detained at Mbiriizi Police Station as investigations continue.