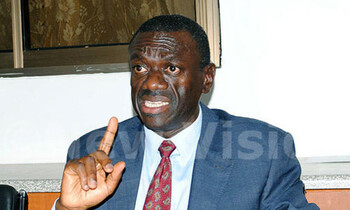 BUGIRI - The fallout between the Forum for Democratic Change (FDC) and Justice Forum (JEEMA) over the Bugiri Parliamentary race has deepened with the latter's leadership accusing the former of betraying the struggle to oust President Yoweri Museveni.
In a statement released on Wednesday on the eve of the nominations, JEEMA spokesperson, Sentongo Kyamudu asked FDC's leaders to come out clear and tell Ugandans that they are now more interested in building their party than in advancing the liberation struggle.
"We have always been preached to that parties are not necessary in this struggle but our biggest disappointment today comes from the chief preacher of that gospel now telling Ugandans that his party is superior to the struggle of ousting the junta. What a shame!" the statement read.
Kyamuddu made the remarks while reacting to Col. Kizza Besigye's recent disclosure that he would back the FCD candidate in the race, Eunice Namatende and not Asuman Basalirwa of JEEMA. Basalirwa is perceived to be the joint opposition candidate in Bugiri.
Besigye, the former President of FDC remains an influential leader in the party long after leaving the Presidency. But in the Opposition party ranks and in the struggle, Basalirwa is perceived to be a more senior person than Namatende.
However, Besigye said he would not abandon his party's flag bearer for Basalirwa.
The declaration has torn apart the bond that had helped the Opposition to defeat the ruling National Resistance Movement (NRM) in the previous two Parliamentary bi-elections in Jinja and Rukungiri.
In a clear show of deep divisions, Robert Kyagulanyi, the popular MP for Kyadondo East in Wakiso district who has become a magnet in swinging youthful voters to the Opposition side who rallied behind Basalirwa together with top Democratic Party officials.
Kyamudu noted in the statement that it was never from the beginning the idea of Besigye and FDC to have a joint candidate in Bugiri.
"JEEMA wrote to different opposition parties for support of their candidate Basalirwa and various parties agreed save for FDC whose leadership insisted that they should first subject us to a kamyufu of sorts before supporting him which we rejected," he said.
The disunity in the Opposition has left NRM with an easy ride to victory in Bugiri. Sources in FDC say the party is punishing Basalirwa for supporting the former Go Forward Presidential candidate Amama Mbabazi in the 2016 general elections against Besigye.