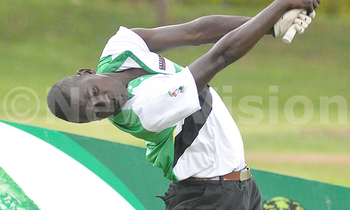 PIC:Michael Alunga's one stroke win was enough to hand him the Tororo Open.(Credit: Michael Nsubuga)
TORO - Toro golf club's youngster, Michael Alunga wants to add the Eskom Golf Open title to his trophy cabinet after winning the Tororo Open that ended over the weekend.
The 21 year old, Nakawa Vocational Institute Civil and Engineering student returned 154 gross over 36 holes to beat a strong filed of over 70 golfers to the top prize of a flat screen Hisense TV at the nine-hole course.
He beat home boy Wycliff Woya who finished second by a stroke to win his first major since finishing third at last year's Eskom Open in Jinja.
"I found the course easy though the greens required maximum concentration and it was my first time on the course.
"I played 82 on the first day because I hit many balls out-of-bounds but after studying the course I realised I could do it," Alunga said.
"I was only wary of Jinja golfer Ismail Muhamood who played 78 but I calmed down and ensured I made up at every hole I messed up in the first round; the fairways were good and most holes were short, so I was attempting birdies on every par 4," Alunga stated.
The tournament attracted a host of golfers from Kenya with Kitale Golf Club's Moses Alusei taking the overall net prize while Nandi Bears' Murise Wanjira topped Group A.
Jinja's Tawfa Bagalana, Tororo's Geoffrey Gyabi and Betty Shikuku from Kakamega were Group B, C and the ladies winners respectively.
Overall winner
Michael Alunga 154 gross
Runner up
Wycliff Woya 155 gross
Overall nett
Moses Arusei 142
Group A
Murise Wanjia 144c/b net
H. Byaruhanga 144
George Magombe 145
Group B
Tawfa Bagalana 142
Henry Kamuntu 144c/b
Daniel Ochieng 144
Group C
Geoffrey Gyabi 144
Stephen Baguma 147
J. Kisuna 150
Ladies
Betty Shikuku
Kyayga Wasike
Beatrice Kyomukama
1st nine - Tom Kifeda 67nett
2nd nine - Simon Onadra 69
Longest drive - Simon Onadra
Nearest to the pin - George Magombe