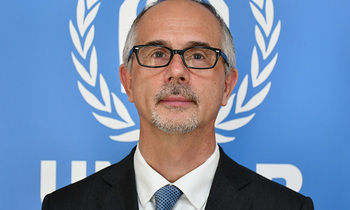 By Joel Boutroue

Upon taking up my assignment as Representative of the UN High Commissioner for Refugees in Uganda, I visited most of the refugee settlements located in 12 districts in the South West, Mid-West and West Nile regions of the country. I quickly came to appreciate the remarkable scope of Uganda's hospitality, which contributes to creating a sense of belonging for 1.45 million mostly women and children forced to flee their countries. I was particularly impressed by Nakivale settlement which was established 50 years ago. Located in Mbarara District, it is a melting pot of refugees from Burundi, Democratic Republic of Congo, Rwanda, Somalia and other countries living and thriving side by side with Ugandan nationals. I saw similar signs of social integration in other settlements.

The current population of refugees is the highest ever recorded in Uganda, the product of continual influxes which resulted in a threefold increase over past two years. During that period, the West Nile region received over one million refugees as conflict that broke out in South Sudan's capital, Juba, in mid-2016 spread across the Greater Equatoria region.
Meanwhile, since January this year, a stream of new arrivals, mostly from D.R. Congo, opened a new emergency front along the western flank of Uganda and has contributed to raising refugee numbers by more than 100,000.

The weight of responsibility that the unprecedented influx represents for a developing country grappling with pressing needs of its own citizens cannot be overstated. Asylum is supposed to serve the dual purpose of providing a predictable and structured framework for the international protection of refugees to persons whose safety is at considerable risk, while ensuring that appropriate and lasting solutions can be implemented.
As the UNHCR Representative, this is my primary focus as my organization continues to support the Government of Uganda to carry out its crucial work of protecting refugees and coordinating the provision of assistance to them.

The majority of refugees in Uganda originate from countries in East, Horn and Great Lakes regions of Africa where causes of displacement are inextricably linked to violent conflict, weak state institutions, political instability or breakdown of rule of law.
Refugees arrive with few or no belongings, traumatised by harrowing experiences before and during flight, like indiscriminate killing, rape, abduction and separation from family. Most have lost the support of networks like community, relatives and friends. Many households are female- or child-headed, and include unaccompanied or separated children, people with physical or mental disabilities, the elderly and people with chronic diseases.

Uganda is living up to its international obligations unwaveringly, notwithstanding the far-reaching political, economic, social, environmental, developmental and humanitarian impact of the unprecedented influx.
In stark contrast, the world is witnessing a crisis in international protection in some countries where attitudes towards refugees range from indifference to outright rejection expressed in exclusionary policies and public reactions.

We hope that in September 2018 the UN General Assembly in New York will recognise the full worth of Uganda's progressive stance, which offers important domestic and international lessons. Uganda's legal and policy frameworks are aligned with the 2016 New York Declaration and its Comprehensive Refugee Response Framework (CRRF). Uganda's refugee laws embody key protection principles, like granting refugees the right to seek asylum and not be refouled along with similar privileges to those enjoyed by nationals such as freedom of movement and the right to work, to name a few. The Government has set aside land for refugees to settle and cultivate; more is provided by host communities. In settlements refugees have access to Government-provided healthcare and basic primary education.

The Government of Uganda has moreover taken the pioneering step of including refugees in its national development plans, taking into account the protracted nature of displacement and the impact on host communities. In this regard, as part of its Second National Development Plan (NDP II), the Government is implementing the Settlement Transformative Agenda, a comprehensive integrated district-level refugee management approach to concurrently address needs of refugees and host communities by way of promoting self-reliance, resilience and peaceful co-existence.

These progressive approaches notwithstanding, the rising number and vulnerability of refugees combined with dwindling humanitarian aid compounds the strain on district and host community resources. Resulting pressures manifest in delays in refugee registration and documentation (identity cards, Refugee Attestations and Asylum Seeker Certificates), inadequate response to sexual and gender-based violence, insufficient basic services, and idle youth lacking educational, vocational and livelihoods opportunities among others.

Against this backdrop H.E. President Yoweri Museveni and the UN Secretary-General, Antonio Guterres convened the Uganda Solidarity Summit on Refugees in Kampala almost one year ago. The landmark event took place amid global recognition that humanitarian aid alone is insufficient to lift displaced populations out of poverty, enable solutions to their plight or assist them to realise their development potential.
It was the launch pad for soliciting investments by multilateral and bilateral donors, the private sector, regional and financial institutions, and other actors to ease the pressures on refugee hosting districts in Uganda. The Summit adopted the "Kampala Declaration on Refugees," which underlines the magnitude and challenges of the refugee situation in Uganda and calls for a multifaceted comprehensive response.

As we prepare for the Global Compact on Refugees, we must assess the progress made towards realizing the objectives of the Summit: to mobilize political resolve to sustain the application of the CRRF in Uganda, attract significant new funding, and secure new partnerships, investments and innovation for the benefit of refugees and host communities. These objectives are aligned with UNHCR's goal of working together with all actors to enhance the capacities, funds and skills of the Government to enable and empower refugee-hosting districts to take effective and comprehensive action for the benefit of both refugee and host communities.

Today, we are in the middle of a countrywide OPM-UNHCR biometric verification exercise, which will enable partners to better understand and respond to the needs and vulnerabilities of refugees. It goes without saying that any response must also bring tangible dividends for host communities not only because we need to mitigate the impact of refugee presence, but because we must also promote peaceful co-existence and safeguard Uganda's progressive asylum policy.

We must do more. The Ugandan host communities deserve this, Uganda deserves this, and so do the refugees.

Joel Boutroue is the UNHCR Representative in Uganda