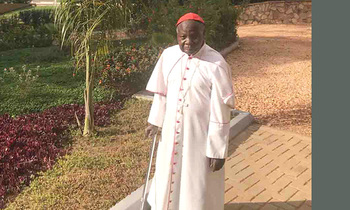 PIC: Cardinal Emmanuel Wamala on arrival at Munyonyo. (Credit: Juliet Lukwago)
RELIGION
KAMPALA- While other pilgrims flocked Uganda Martyrs Shrines at Namugongo, Emmanuel Cardinal Wamala decided to pay his private pilgrimage to Munyonyo Martyrs Shrine.

Because of the huge number of people who gather at Namugongo to celebrate Martyrs Day every year, Cardinal Wamala, 91, decided to go for pilgrimage to Munyonyo Martyrs Shrine due to the doctors' advice of him taking a rest.

Cardinal Wamala, who was accompanied by Brother Leonard Ssekiranda, reached at Munyonyo in the afternoon and were welcomed by Shrine Rector Fr Wojtek Ulman a.k.a Male.

Fr Male said it was Emmanuel Cardinal Wamala's unexpected.

On his arrival, Cardinal Wamala went straight to St Andrea Kaggwa's sculpture and recited his private prayers for almost ten minutes. Later, he slowly moved to the priest's house and had a chat with the shrine rector.

Cardinal Wamala has been out of the public limelight since end of last year.

"I am not sick at all, I'm fine, and I was only advised by the doctors, to reduce on my schedule and rest. I was also asked to limit my interaction with people and get a quiet place where I can rest," Cardinal said.
Emmanuel Cardinal Wamala recite his prayers with Fr Male the shrine rector of Munyonyo Martyrs Shrine on his pilgrimage to Munyonyo Martyrs Shrine. (Credit: Juliet Lukwago)