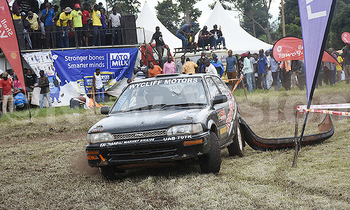 PIC: Samuel Watendwa's damaged car as he fights to take control of the car before it knocked two fans. (Credit: Johnson Were)
Super Special stage Rally
Results: FortPortal
1. Ronald Ssebuguzi 5.0.10
2. Christakis Fitidis 5.02.09
3. Adam Rauf 5.03.12
4. Unisan Bakunda.5.14.08
5. Kepher Walubi 5.28.07
6. Fred Wampamba 5.20.13
7. Dr.Ashraf Ahmed 5.23.13
8. Ponsiano Lwakataka 5.24.08
9. Omar Mayanja 5.25.07
10. Suzan Muwonge 5.25.08
FORT PORTAL - Two fans and a safety official were rushed to hospital after sustaining injuries from Samuel Watendwa's car.
Watendwa's car hit them in the course of negotiating a corner during the super special stage of the UMC rally at BomaGround in FortPortal on Saturday afternoon.
The two are stabilizing according to the UMC President Badru Ssebunya.
The competitors attributed the accident to the organisers who left very little space between the fans and the rally track.
One of the injured people being carried away by fans. (Credit: Johson Were)
"They should have left a 50m gap from the track and the fans but what they left is less than five meters," Christakis Fitidis said.
Ssebuguzi navigated by Leon Ssenyange in a Mitsubishi Evo10 lost a time of five minutes and 10 micro-seconds beating second positioned Christakis Fitidis navigated by Eric Nzamwita in Evo10 by two seconds.
Adam Rauf navigated by George Ssemakula in an Evo 10 and finished third while Unisan Bakunda and Kepher Walubi managed fourth and fifth positions respectively.
The contest continues on Sunday with eight competitive stages.