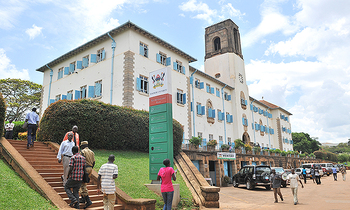 MAKERERE - Makerere University School of Public Health has launched a new master's programme.
The programme is aimed at empowering students with knowledge and skills to use technology to improve health care delivery in the country.
ICT and national guidance minister, Frank Tumwebaze noted that the Master of Health Informatics (MHI) programme will contribute towards improving the information flow in Uganda's public and private health sectors and in NGOs dealing in the field of health.
Tumwebaze disclosed that one of the challenges hindering health care delivery in Uganda is the lack of information, especially in critical areas about the health sector.
He added that this comes with the inability to communicate vital information that is key to the survival of Ugandans.
Tumwebaze made the remarks while officiating at the launch which was held at Makerere University Guest House.
The function was held under the theme: "Harnessing Technology's Power to improve Healthcare Delivery".
Prof. NazariusMbonaTumwesigye, the director of the programme, explained that the practical course targets students with a background in Information Technology or biomedical related sciences.
He explained that they came up with the course after noticing that a lot of data is collected in the health system, but unfortunately, it is not analysed to inform policy.
Prof. Charles Ibingira, the principal of the college of health sciences, noted that the skills acquired by the students will enable them manage and process data, which can later be used to drive development.
Mbona added that with this course, students are equipped with technological skills that can help them improve the information systems in the health sector.
He noted that the health sector has been grappling with several challenges cause by the fact that the flow of information is not smooth.
For example, impending crises are not communicated in time, which makes it hard for solutions to be sought before the situation escalates out of control.
He noted that the first cohort of students for the course is in their second year now, adding that so far, there are a total of 45 students (20 in first year and 25 in second year).
Prof. Josephine Nabukenya from the College of Computing and Information Sciences noted that the MHI programme is a marketable one, adding that their students are already working with the health ministry to develop solutions to several problems and to support it in implementing an e-health strategy.
Research grants
Mbona disclosed that there are research grants for75 students and urged students to apply for them.
In addition, he disclosed that four students on the programmeare fully funded.
Fact file
Makerere University School of Public health is one of the schools in the College of Health Sciences at Makerere University.
It is running the Master of Health Informatics program together with the College of Computing and Information Systems.