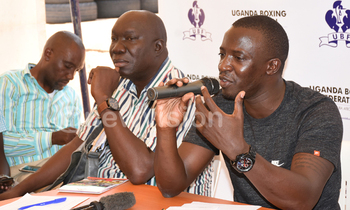 PIC: UBF president, Moses Muhangi, at one of the press confrenceses. (File photo)
KAMPALA - After court let off the Uganda Boxing Federation (UBF) account on Tuesday, the UBF president Moses Muhangi has insisted on his goals of accounting for the federation's money.
According to the Court document dated April 12, the registered trustees of the Uganda Boxing Federation took the matter to court seeking that the account be frozen so that it is first audited.
Also in the court order UBF was prevented from collecting any membership fees, convening or organising any assembly or competition.
However, His Worship, Alex Mushabe on Tuesday ordered that the orders contained are reviewed and set aside with no costs following the event.
"We won the case against the trustees and now our account is free and we are here to serve the boxing fraternity as we promised, we shall have all activities with no interference," Muhangi said
"When I was coming into office I promised to always account for tax payer's money, we shall not give up at what we promised, I will always insist on making accountability," Muhangi added
He also said that if it needs him to feed in his own money he will always do it for the good of the sport than exploiting the little money given to the federation.
"Taking an example of what transpired when we were leaving for the African Youth championships when I used my own money to fly the team, I said we are here to make boxing great again," said Muhangi.
Kenneth Gimugu, Paul Ayiasi and Fred Kavuma are the members of the trustees who were behind the case and served in the previous federation's executive committee as president, organising secretary and public relations officer respectively.