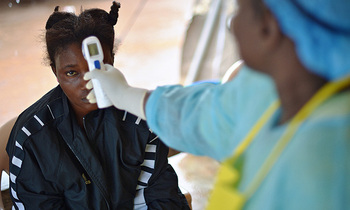 PIC: Pilgrims arriving from DRCongo will be undergoing screening before accessing the Namugongo premises. (File photo)
NAMUGONGO - All pilgrims arriving from Democratic Republic of Congo (DRC) are undergoing screening for Ebola, according to a statement from the ministry of health.
The screening is taking place at both the border districts and in Namugongo before entrance into the shrines.
This comes after the Health Ministry in the DRC the declared the ninth outbreak of Ebola virus in the country, in early May.
According to the World Health Organisation, as of May 21, 2018, a cumulative total of 58 cases, including 27 deaths had been reported from three health zones in Equateur Province.
The ministry of health in Uganda has set up an isolation unit at the China-Uganda Friendship hospital, Naguru.
"An expert team of 10 medical personnel will conduct screening of Ebola Viral Hemorrhagic fevers at Namugongo," reads the statement.
Additionally, the ministry has designated 150 workers, led by Tororo diocese at the Catholic shrine while 60 health workers led by Kigezi diocese will be deployed at the Anglican shrine alongside 40 emergency care officers.
Some of the personnel shall be positioned among the pilgrims, wearing reflector jackets with tags for easy identification and timely provision of first aid incase need arises.
Seven fully equipped ambulances, two stationed inside the premises and five along the road have been availed until 4th June.