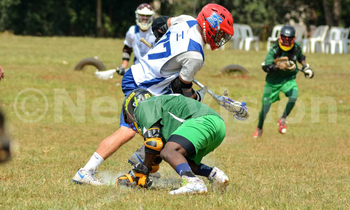 PIC: Uganda's Patrick Oriana (green) takes on an Isaraeli player. Oriana hopes to be at his electric best in Israel. (Credit: Kasozi Balikuddembe)
FIL World Lacrosse Championships
2018 July 12-21
Netanya, Israel
Uganda's participation at the prestigious FIL World Lacrosse Men's Championships is seen with rose tinted glasses by lacrosse enthusiasts in the country.
With a final roster released recently, Uganda are making their second appearance at the worlds.
In 2014 they debuted in the competition that was hosted in the United States and although they finished a distant 34 out of 38 countries, the appearance alone was a grand advert for Uganda.
They have since, strived to feed off that "status" and interestingly, along the way Uganda has acquired some of the upper crust of the game into their ranks. Seasoned Israeli coach Peter Ginnegar and General Manager Matt Holmanwill perhaps be a perpetual mention in Uganda Lacrosse history.
Ginnegar and his staff selected 23 players for the much anticipated championship that is expected to attract 50 teams.
"We believe our roster reflects our best chance to succeed in the Israel championship. Every player dreams of representing their country" Ginnegar said.
Meanwhile, with the count down to the championship gathering speed, Uganda is surely not a finished product as they are short of USD 38,000 to cover the costs of going and staying in Israel for ten days.
" We continue to seek for more sponsorship from all well wishers" Uganda Lacrosse publicist Liberty Twesiime earlier said.
2018 Uganda National Team Roster
Allan Amone (G)
Jeff Anywar (M)
Michael Bahizi (D)
Bernard Otim (D)
David Castro Onen (A/M)
Kenneth Ssazi (M)
Kenneth Kasule (M)
Trey Kawugule (M)
Martin Komakech (M)
Keith Lubangkane (M)
Faizo Nsubuga (A)
Samson Ochan (A)
James Okello (G)
John Paul Okura (D)
Patrick Oriana (M)
James Okello (G)
Reagan Ochan (M)
Ronald Otim (D)
Joswa Ssetimba (M)
Pitta Shaban (D)
Yunis Brian Tukire (M/D)
Liberty Twesiime (A/M)
Dalton Wadri (M)
EMAIL: kbalikuddembe@newvision.co.ug
TWITTER: @casozi14