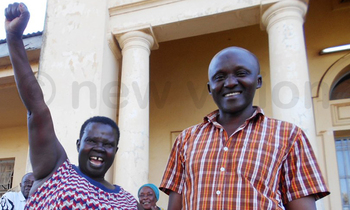 NRM's Agnes Auma Pajobo (left) celebrates her win with a supporter. Photo by Doreen Musingo
Former councillor for Kakira town council, Agnes Auma Pajobo has won the seat for the Jinja district female workers representative.
Also in the same category, Joshua Bagoole won the election for the male representative.
This was during an election process which was held Wednesday at Busoga Square.
While announcing the results, Rogers Sserunjoji, the Jinja district returning officer, declared that National Resistance Movement's (NRM) Auma scoped 111 votes, beating her opponent, Zam Wambede of Forum for Democratic Change (FDC), who got 74 votes.
In the men's race Bagoole of FDC polled 117 votes while Moses Baleka of NRM got 70 votes.
Auma who won the newly introduced slot, pledged to liaise with the labour department and sensitise workers, mainly in upcoming industries, about their rights.
Bagoole promised work for occupational, health and safety rights. He also pledged help fight sexual harassment which he claimed is rampant in foreign owned industries.