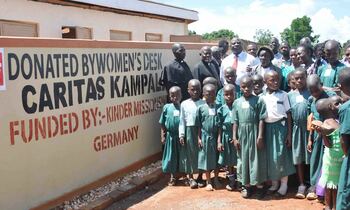 PIC:District Education Officer John Ssenkumba Kisitu (white shirt) standing with some priests, pupils and parents of Bulungu Priamay School in Butambala district. (Credit: Juliet Lukwago)
BUTAMBALA - Caritas Kampala (CK) has partnered with a German organisation of young children known as Kindermissionwerk to build toilet facilities for girls and rubbish bins in Butambala district.
Caritas is a non-profitable arm of the Catholic Church that is mandated to carry out socio-economic development activities for all manner of people, irrespective of their culture, religion, creed or political affiliations, operates in four districts that include Mpigi, Butambala and Wakiso particularly for the marginalised and vulnerable people.
Bulungu Primary School, Simba Primary School and Guadalupe Secondary School are some of the schools that got new toilets.
All the toilet facilities that have also changing rooms for particularly the girls were constructed at a cost of sh56m.
According to Harriet Byekwaso, the Caritas project coordinator, girls always suffer to look for clean toilets during their monthly periods which led many girls to drop out of school because the school hasn't got a basic toilet.
"Lack of toilets put girls on risk of shame and assault have no adequate sanitation, which are all basic things most of us take for granted," she said.
She added that Caritas Kampala and Kindermissionwerk constructed safe pit toilets for girls in schools to help them so they don't miss school especially when they reach puberty.
Byekwaso called upon girls to keep the toilets clean, "these are girl's toilets, so we don't expect teachers and boys to use them. Also, keep them clean."
Director Caritas Kampala, Fr Peter Musumba, said the overall goal of this project is to move girls up the sanitation ladder by promoting safe hygiene and sanitation practices in primary schools, constructing pit toilets, rubbish pits to help girls to stay in school and learn in an environment free from disease.
In addition, John Walungama one of the former head teachers of St Kizito Bulungu Primary School said that "lack of access to water and toilets can seriously interfere with pupil's education."
He added that, due to a lack of education on good hygiene, most children, especially girls tend to miss school more regularly due to bouts of menstruation.
Girls often drop out of school when they reach puberty because of embarrassment and the lack of private places to maintain their dignity.
Florence Nabatanzi, a primary six pupil at Simba Primary School said that they often find difficult in attending school during menstruation.
"Even if we go to school, we fear makeshift sanitary towels may leak and disrupt our concentration and participation. At least we miss school for those days instead getting embarrassed," Nabatanzi said.