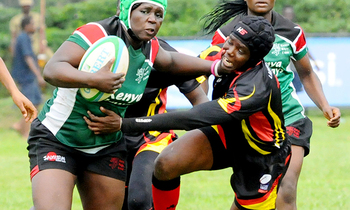 PIC: Charlote Mudoola (right) attemps a tackle on a kenyan player. Mudoola scored a conversion as Uganda lost 29-7. (Courtesy photo)
Africa Women's Rugby Sevens
Botswana, Gaborone
Semi final
Uganda 10 Tunisia 5
Final
Kenya 29 Uganda 7
GABORONE - There is a number of take- away points from Uganda's campaign in the Africa Women's Rugby Sevens that ended Sunday in Gaborone,Botswana.
The tournament marked a progressive trend for the Lady Rugby Cranes as finishing second means they will, alongside Kenya, play in the Hong Kong Sevens qualifier.
It is the first time Uganda are finishing second since 2008 when the competition was played in Kampala.
Perhaps, this is an indication that the Lady Rugby Cranes are surging into ascendance. None the less, they have been runners-up for a total of four times in the history of the contest.
Interestingly, there is a sense of what might have been if Helen Buteme's girls had enough of international engagements before the continental showpiece.
A lack of such engagements was in fact one of Buteme's fears before the Uganda contingent flew out to Botswana last week.
The sevens team had last been competitive the previous year.
"We must, going forward, get invested in international games. The girls are talented for a fact but such engagements can only sharpen their abilities the more" she stated.
Following their rather impressive overall performances in Gaborone where they lost 29-7 to a supremely stronger Kenya in the final, they are looking at a series of activities including next year's Olympic qualifier.
Meanwhile, becoming a core team in the World Rugby Series is certainly a feat that is still far from Uganda's clutches but then, it remains a realistic target.
EMAIL: kbalikuddembe@newvision.co.ug
TWITTER: @casozi14