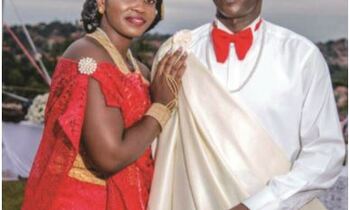 Lt.Col. Deo Akiiki Asiimwe and his wiffe-to-be Mercy Kansiime
Two senior Uganda People's Defence Forces (UPDF) officers are fighting over a woman in a conflict that is threatening to block a church wedding. Maj. Gerald Bamwitirebye, a defence lawyer at the General Court Martial, has moved to block his senior, Lt Col Deo Akiiki Asiimwe, the army's deputy spokesperson, from marrying a woman whom he claims as his wife.

According to the documents seen by Sunday Vision, Asiimwe is scheduled to marry Mercy Kansiime Wamahoro on June 22 at Our Lady of Africa Church in Mbuya and the reception is planned for Kati Kati Restaurant, Lugogo Bypass.

Cards for the wedding have already been distributed. Bamwitirebye claims to be the husband after a customary marriage to Kansiime at her parents' home in Rubaare, Ntungamo district on November 11, 2012. Bamwitirebye also claims that they have two children, aged six and two, who he claims have been snatched by Asiimwe.

On Friday, Bamwitirebye wrote to the church minister at Mbuya, saying he wants his wife back and requested the church not to proceed with the wedding.

Asiimwe's other wife Through his lawyers from Ojok Advocates, Bamwitirebye said Asiimwe is already married to another UDPF soldier, Sarah Takoberwa, whom he is also abandoning.
Maj. Bamwitirebye
"We are aware that the above male and female adult persons are intending to celebrate a church marriage in your church and have already put up notices of marriage to that effect, having already performed the introduction ceremony," reads a letter received by the church.

"Proceeding with celebration of this church marriage is illegal, null and void since it violates Section 34 (1) of the Marriage Act, Cap 251 of the Laws of Uganda, as Kansiime is already married to Bamwitirebye," the lawyers warned.

They also warned that the church would commit an offence under the Marriage Act if it goes ahead to celebrate, perform or witness the marriage. One of the priests at the church confirmed receiving the letter.

He said the church would carry out background checks on the parties to find an amicable solution to the matter. He also revealed that Asiimwe had already been notified about the issue.
However, the priest advised that if a wife has lost interest in a man, it is better to let her go rather than force a marriage. "If a partner no longer likes you, you let her go and avoid the risk of violence.

Unless the major has other motives, customary marriage can be dissolved if he goes back to the parents and they agree to return his property," he said. "The lawyers of the parish will look

into the issue next week and give their legal opinion before the church can decide either to halt the wedding or not," the priest, who identified himself as Fr John Mungereza, said. Bamwitirebye has also petitioned the UPDF Chieftaincy of Legal Services, seeking justice and redress. His letter is copied to the deputy Chief of Defence Forces and Chieftaincy of Military Intelligence.

He said Asiimwe eloped with his wife, who left their marriage and he was intending to file a case at Katwe Police Station. "I lived with my wife in Makindye, happily as husband and wife, till my wife began misbehaving. I later discovered that she was moving out with Asiimwe, my close friend, schoolmate and superior," he said.

abandoned home Bamwitirebye added: "My wife even abandoned our home and went to

stay with Asiimwe. I then asked Asiimwe why he was destroying my family yet he had his which was solemnised in Kabarole district in 2009, with one Grace Kyaakyo but his response was that he could do whatever he wanted. He subsequently blocked me on WhatsApp and messenger."

Bamwitirebye said Asiimwe ignored him and went ahead to visit his wife's family in a traditional ceremony in Kampala last month. He also rushed for the give-away ceremony on May 6, at St. Kaloli Lwanga Gardens at Bunga on Ggaba Road.

Bamwitirebye wants the Chieftaincy of Legal Services to intervene because he claims Asiimwe is using his influence and office to take his wife. He said the deputy army spokesperson often takes his wife along on military functions claiming she is a journalist when she is not. "That act is bad because restricted information is divulged to the public contrary to the UPDF code of conduct," he said.

He said Asiimwe's actions have caused him psychological torture, mental anguish and ridicule among his colleagues and members of the public. "The actions of Asiimwe have been grave and impacted not only me and my family but also the image of the noble institution of the UPDF," Bamwitirebye's letter to the Chieftaincy reads.

Asiimwe responds
Asiimwe dismissed Bamwitirebye's letter as malicious, saying the army leadership had ignored it after seeing no merit in it. Asiimwe told Sunday Vision

yesterday that he had the consent letter of marriage from parents and nothing would stand in their way. "The act being done by an ex-boyfriend of my wife is trying to sabotage us and malign my name because he has nothing to lose," he said.

He acknowledged the fact that Bamwitirebye has children with Kansiime, but argued that their marriage was not blessed by the latter's parents. "I did legal consultation and found out from the bride's parents that he had expressed interest in their daughter but did not meet the conditions for marriage, including bride price.

On top of that, he tortured their daughter and the parents told her to return home," he said. "That officer does not even know which schools his children go to. He is the one who actually snatched the lady from her parents." He wondered why Bamwitirebye chose to write to the church and the media instead of him and his wife's family first.

"I am going to meet the priest over it. I will also meet the army leadership tomorrow about the act of this officer," Akiiki said. He also argued that the church does not receive caveats from law firms but High Court.