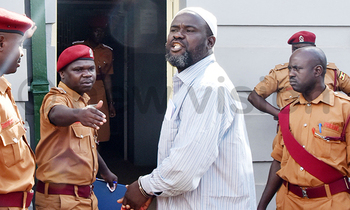 PIC: Jamil Mukulu. (File photo)
KAMPALA - The pre-trial of the former Allied Democratic Forces (ADF), rebel group chief Jamil Mukulu resumes Monday at the High Court in Kampala.
Mukulu and 34 others are indicted with terrorism, murder, aggravated robbery and crimes against humanity in connection to various atrocities allegedly committed by ADF combatants in different parts of the country.
The pre-trial is being handled by High Court Judge Eva Luswata.
According to Justice Luswata, the purpose of pre-trial is to have all the evidences against each of the accused adduced in court before trial commences.
"Some of the accused may walk court free and others may be given opportunity to plead guilty to the charges if prosecution produces overwhelming evidence," Luswata noted.
Justice Moses Mukiibi, the head of the ICD court, Suzan Okalany and Michael Elubu will preside over the main case.
Mukulu, 54, was arrested in Tanzania in April 2015 and extradited to Uganda to face the law.
The other accused include; Dr. Aggrey Kiyingi, a Ugandan cardiologist living in Australia who is still at large, Ali Kabambwe alias Munakenya, Abdallah Sharif Ali Salim alias Mukyotala, Musa Nabangi, Adam Diin Bashiri alias Wabula, Sheikh Ahamed Rashid Wasiga, Cpl. Alex Martin Engwau, Sgt. John Owori, Sheikh Ibrahim Badru Wanjala, Amis Adam, Abdul Malik Kabaale, Muzahamu Ndifuna, Ibrahim Kyessa, Yakubu Kyessa, Muhammad Muruya, Abdallah Waniala, Abduswabul Kimbugwe, Muhammad Mbuya, Muhammad Kiryagana, Abdurahamani Muyaga, Muhammad Matovu, Omar Abdallah Mutuka, Amis Sowedi, Zaidi Kambo, Musa Kaala, Mansuudi Kisambira, Isa Kayira, Hassan Waswa, Abdallah Kirwani, Daniel Wanyama, Abdul Ddungu, Robert Wandera, and Umayiya Kikomeko.