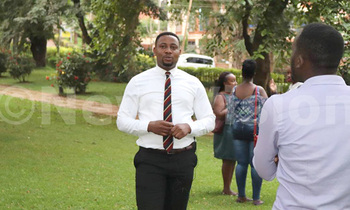 PIC: Edgar Mfite Niyimpa, the Bafumbira World president says the event is meant to remind the people of their culture. (Credit: Wilkson Manishimwe)
CULTURAL HERITAGE
BAFUMBIRA WORLD- Kisoro people living in Kampala through an umbrella association Bafumbira World are set for their annual gathering in which they celebrate their culture language, traditional dances among other things.
"This time round we shall have the quiz session about Kisoro and Bufumbira County at large. People have already formed groups where they will be asked questions about some of Kisoro's natural endowments, and Rufumbira riddles among others; the best group shall be rewarded," said the association's president Edgar Mfite Niyimpa.

He said the gathering will take place on Saturday May 26, at Clouds Lounge in Ntinda, a Kampala suburb.

"The quiz session will enlighten people on existing features in Kisoro and some of the rarely used Rufumbira slogans among others.

"There will also be the drinking of local brew known as 'Inturire'," Mfite stated during an interview with New Vision.

Mfite highlighted that the event shall also witness local poetry (also called Kwivuga in Rufumbira), which is one of the key entertainment activities in the Bafumbira tradition especially while at fire places.

Launched two years ago, the Bafumbira World among other objectives has brought together Kisoro people living in Kampala on how best they can solve social challenges in their areas.

For instance early this year, they launched elderly health insurance scheme that will see the elderly get free health services as a way of ensuring quality health care among the old needy people.