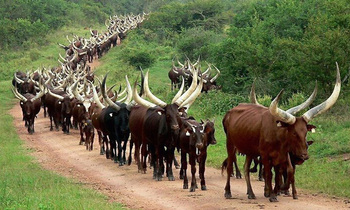 PIC: Foot and mouth disease is prevalent in more than 30 districts in Uganda
LIVESTOCK FARMING
FOOT AND MOUTH DISEASE- Scientists at the National Agricultural Research Organization have identified a new strain of the foot and mouth disease virus: a Southern African Territory 3 (SAT 3), which attacks livestock causing lesions in mouth and sore feet and subsequently inhibiting the animals' abilities to eat or move.

The SAT 3 was discovered in a seemingly healthy long-horned Ankole calf that grazed close to buffaloes in western Uganda.

"This calls for heightened surveillance to control spread, because we don't have any vaccine against the particular strain," Dr. Moses Dhikusooka, who led the team of researchers, said.

There are seven known strains of the foot and mouth disease virus. Serotypes O and A are widely distributed and the SAT 1, 2, and 3 usually restricted to Africa. Then there is Serotype Asia 1 and serotype C, which has not been identified anywhere since 2005.

Serotypes O and SAT 2 are the commonest in Uganda.

The researchers wanted to find out if the country harbored other strains of the FMD virus.

So they introduced 20 long-horned Ankole cattle (which were six-months old) into Nyakatonzi farm, in Kasese District, in close proximity to Queen Elizabeth National Park which has buffalos.

The cattle were picked from vicinity where foot and mouth outbreaks had not been reported for 10 years. They had no circulating antibodies against the foot and mouth virus.

The cattle freely mixed and grazed with buffaloes.

After two weeks, the foot and mouth virus RNA (or Ribonucleic acid), was detected in the probing sample from one animal.

Antibodies against the foot and mouth virus had developed in one animal.

"The scientists also detected 'high-titer' antibodies against both foot and mouth virus SAT 1 and SAT 3 antigens using solid-phase laboratory techniques for detecting proteins," Dr. Dhikusooka said in the recent research.

The emergent virus strain (SAT 3) is 20% different (in nucleotide sequence) from its closest relatives (Serotype O and Sat 2) which were isolated previously from buffalo in Uganda.

Foot and mouth disease remains one of the most economically hazardous diseases of livestock in Uganda, costing the country millions of shillings.

The infection is prevalent in more than 30 districts in Uganda.

An outbreak was reported in four districts in the Bugisu region last year, which prompted a ban on the movement of livestock and animal products from the affected sub-counties to stop the spread.

The foot and mouth disease is an infectious viral disease that attacks hoofed domestic and wild animals. It can be spread by infected animals and their products, and feeds.

Foot and mouth disease causes fever in infected animals, followed by blisters, largely in the mouth and feet of cloven-footed animals, such as cattle.

It does not affect humans, much as they are discouraged from eating meat from infected animals.