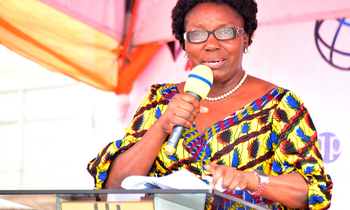 (Left-right) Chairperson education committee of Parliament Connie Galiwango, UNEB Executive Secretary Daniel Nokrach and UNEB Deputy Secretary Finance Moses Okello appearing before the budget committee of Parliament on May 21. (Credit: Maria Wamala)
PARLIAMENT BUDGET COMMITTEE
MOTOR VEHICLE INSPECTION- The Parliament Speaker Rebecca Kadaga has highlighted the need to facilitate Uganda Police Force (UPF) to conduct motor vehicle and traffic roads inspections in a bid to combat the alarming road carnage.

"It is high time that the Government gives back the Police the role of motor vehicle and traffic roads inspection. The House has been opposed to many of these things that are happening but because there are not in our hands, they happen nevertheless," said Kadaga.

"So, instead of undermining Police, which is our national force, and more over they are Ugandans, we need to facilitate them, give them the necessary support and funding to carry out the necessary inspections of motor vehicles and trainings in this country," Kadaga said.

Kadaga said this during the launch of the Road Safety Legislative Action Plan on Friday at Parliament. Organised by the Parliamentary forum for Road Safety with support from the World Bank, Safe Way Right Way and Ministry of Works and Transport.

Kadaga also tasked State Minister of Works and Transport (Works) Aggrey Henry Bagiire to expedite the amendment of the Traffic and Road Safety Act, 1998 which the minister promised will be presented to Parliament before end of June 2018

The launch held at Parliament is aimed at galvanizing efforts to address legislative issues regarding the institutionalized management of road safety, safer roads and mobility, safer vehicles and road users, and post-crash response.

Last year , the ministry of Works and Transport handed over the contract for mandatory inspection of motor vehicles to Société Générale de Surveillance (SGS), a Swiss company that provides inspection, verification, testing and certification services.

A popular minority report from the committee on Physical Infrastructure that is currently before Parliament recommended for the termination of SGS' contract citing multiple irregularities.

Bagiire said According to Ministry of Works and Transport performance report of 2016/17, deaths on the road are on the rise despite the introduction of several interventions by the police and Uganda National Roads Authority to curb accidents.

"At least 9,572 people have been killed in motor accidents in the last three years countrywide, a new report indicates. "The fatalities...and trend has been the same for the last five years," said Bagiire.

This rate of deaths as a result of accidents is alarming since the above statistics indicate that on average almost 10 persons die on Ugandan roads on a daily basis," the report reads in part.

In the same period, the report indicates that road traffic crashes reduced from 18,495 in 2015 to 14,474 in 2016.The report indicates that deaths in accidents rose from 3,224 in 2015 to 3,503 in 2016.There were about 2,845 cases in 2014.

At the launch, Dr. Yonas Tegegn Woldemariam, World Health Organization (WHO), Country Representative to Uganda said that road accidents which is predicted to be the 5th largest killer by 2030 globally, is holding back health and economic development in the country.

"In the last decade, road accidents in Uganda rose by 25.9% from 2597 deaths per year in 2006 to 3536 in 2016. Additionally up to 33% of emergency beds in hospitals are occupied because of road accidents and this is clearly a huge disaster holding back health and economic development in the country," Dr. Woldemariam said.

He added that whereas the road sector contributes less 5% to the GDP, the country loses 5% of its GDP to roads accidents.

"Uganda is estimated to lose $1.2bn equivalent to 5% of its GDP to road traffic accident and related causes, however road sector contributes about 3% in 2014 and 2015 clearly indicating that we are paying more in lives than we gain in the economy," he said.

Dr. Woldemariam told Kadaga that WHO is dedicated to support Parliament's efforts to facilitate implementation of key priorities to curb these accidents that are causing too much morbidity in the country.

Currently, In Uganda, 28.9 persons per 1000 population die in road accidents and this exceeds the average 24.1 persons per 1000 Africans and even higher than 18 persons per 1000 population globally respectively.

Ivan Mwondha, Senior Transport Specialist, World Bank said that these shocking statistics requires that policymakers prioritize proven investments in road safety and provide the bedrock for the World Bank intervention through the Global Road Safety facility.

"World Bank is actively involved in this campaign and we are currently undertaking a review of the national transport policy and updating it to reflect one of the fundamental tenets of the national transport policy; that is road safety, accessibility, effectiveness and cost-efficiency," Mwondha said.