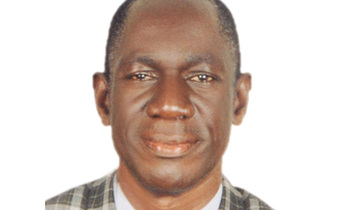 By Tom Ongeso

God's gifts to Uganda are many, including the Source of the Nile, the Equator, excellent climate and the religious martyrs. Uganda is not simply Winston Churchill's Pearl of Africa, but the divine Garden of Eden.
However, there are gifts in leadership as well. One of them is Abubakar Abdallah Adoko Nekyon.

In a special act of collaboration between the Executive and the Legislature, Yoweri Kaguta Museveni and Rebecca Kadaga recognised the Founders of the Nation in an awesome ceremony at Serena Hotel, turned into Parliament, on September 26, 2016.

The Founders of the Nation were praised and later decorated by scores of resplendent UPDF generals. They were not only bestowed the golden jubilee medals, but an executive directive to receive full gratuities and monthly pension.
However, the President's inner wish was to take a special photograph with the survivors. On everybody's lips was, therefore, Adoko Nekyon - as he was known to be alive. Today, in the triumph of love over fate, his demise on April 27, 2018, after one and a half years, is still untimely.

Uganda should, therefore, unite in tribute to Adoko Nekyon. He was not only a founder of the nation, but a unique maverick legislator, a visionary, role-model, a socio-economic flag-bearer, a peace-maker, soccer engineer, a brilliant scholar and recipient of the Makerere University honorary PhD award.

A picture is worth a thousand words. In February 1962, Uganda's Parliament captured this of the First Parliament, labelled "The Founders of the Nation". This included Adoko Nekyon. This is the Parliament that fought to obtain Uganda's independence. Equal honour should thus be given to Nekyon's comrades who went to Lancaster House in 1961 and to Malborough House in 1962 to demand our political freedom.


The checklist includes the following stalwarts:-

Buganda: Ben Kiwanuka, Kulubya, J.C. Kiwanuka, Bemba, Mugwanya, Mulira, Musoke, Sonko, Masagazi, Mbabi-Katana, Babukika and the Kabaka Yeeka block.

Western Region: Bataringaya, Babiiha, Ibingira, Katiti, Rwamaro, Bisamunyu, Lwamafa, Magezi.

Northern Region: Apolo Milton Obote, Otema Alimadi, Lakidi, Abdallah Anyuru (later executed by Amin), Obonyo, etc.

West Nile: Felix Onama and Hon Vuciri. Karamoja: Max Choudry and J.B. Loruk.

Eastern Region: Chemonges, Stanislaus Okurut, Anyoti Snr, Isiagi, Cuthbert Obwangor, Adriano Oriekot (who championed the Co-operative Movement).

Busoga and Bugisu: William Wilberforce Nadiope, Nabeta, Nkutu, Wakhweya, Wakholi, S.G. Muduku (still alive).

Lady MPs: EEK Mulira and F. Akello (both still alive).

Nekyon, a unique and maverick legislator, has earned particular hype for his recent cross-over to the opposition party, DP. Maverick because Nekyon "crossed the floor" easily ten times. But it is little understood that his political gravitas were the good governance elements of transparency, accountability, equity, justice and integrity. Nekyon invoked these inalienable principles to take his stance in high-profile debates, like the lost counties; confinement of certain Cabinet Ministers to Karamoja; the long detention, thereafter, of Ibingira, Magezi, Lumu, Kirya and Ngobi; and the inquiry into the Congo gold and ivory scandal moved by the Kabaka Yeeka MP, Daudi Ochieng.

Nekyon's role as a visionary was evident in his keenness to cause mindset change among the able-bodied to invest in the future. When UPC lost-power, Nekyon counseled the followers to cease rebellion, go back to the drawing-board and recapture dignity through professional and business excellence. The Lango community took heed - to the rapid economic prosperity of the sub-region.

Nekyon's choice to engage in national soccer organisation attests to the spirit to win through decent competition and fair-play. His academic brilliance testifies to the use of reason in human endeavours. This is the profile of Uganda's ideal citizen. Government's role is to fulfill the resolution made on 26th September, 2016, to pay full gratuities and monthly pension to these gallant Founders of the Nation.

The writer is the executive director of Willpower Alliance and a senior citizen of Uganda