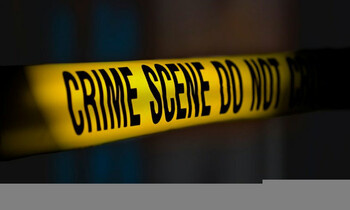 DEATH
LUGAZI- Grief has engulfed residents of Kitega-Wabukolwa zone in Lugazi municipality in Buikwe district after they discovered a man and his daughter hanging in their house.

The Ssezibwa regional spokesperson, Hellen Butoto, has identified the father as Rogers Omara and his daughter Winnie Abwochi aged five years.

Both bodies were found hanging on ropes inside the house which Omara was renting.

Omara was clad in a red T-shirt of Airtel and blue jean trousers, while the girl was in a grey sweater and floral skirt and had plaited hair.

Besides the bodies, there were playing cards scattered around.

According to the residents, trouble resulted from Omara finding his wife red handed having sexual intercourse with another man in their house.

Residents had occasionally told Omara about his wife's conduct of sneaking men into their house whenever he went working at night and would let them go in the wee hours of the morning.

It was not clear where Omara was working at night and Police had not yet identified the details of the wife.

However, acting on a tip, Omara, on the fateful day, returned home earlier than before and upon knocking on the door, his wife opened and allegedly took off leaving the two men fighting.

They wrestled, but Omara was overpowered and the man also fled.

Vincent Katumba, the area LC1 chairperson, said they learnt of the incident by a woman who always picked Omara's daughter to have lunch at her home ever since her mother fled.

Katumba said the woman sounded an alarm on seeing the bodies hanging by the window which attracted residents before they informed Police.

According to Resty Nakabugo, a resident, Omara had been moving with a panga while hunting for his wife with an intention of causing harm to her.

Nakabugo said Omara had allegedly threatened to kill himself and the child, but they took him for a joke.

"He looked so angry and we feared that once he got his wife, he would kill her. We tried to counsel and asked him to rescind the decision of killing himself and their child, but we have been shocked to find him and his daughter dead," Nakabugo said.

However, some residents doubted if the deceased hanged themselves, suspecting the cheating man to have returned and strangled them before tying ropes around their necks.

The girl's body was found lying next to that of her father.

"Police must conduct a postmortem to ascertain the cause of death because it could be the suspected man who did it," Matiya Musoke said.

The Lugazi municipality mayor, Deo Tumwesigye Mbabazi, urged Police to take the bodies to Mulago Hospital for a post mortem. Butoto said this will also help police with its investigations.