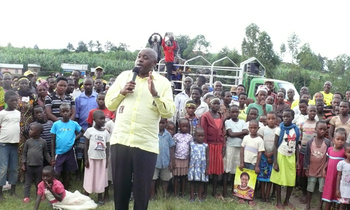 State minister for housing, Christ Baryomunsi says the repeat of elections in Rukungiri was as a result of an offertory former MP Winfred Masiko gave in church.

Baryomunsi said the reason why Masikos' election was nullified was very simple not stealing votes as the opposition is saying because if it was the case the FDC candidate would have gone to Parliament automatically not through elections again.

"The only reason why we are repeating elections is just sh50,000= that Winfred Masiko gave to Kibaale Catholic Church in Nyakishenyi as an offertory and sh100,000= she promised Nyarushanje Catholic Church towards completion of the house for their priest, not vote rigging," he said.

Baryomunsi said all leaders were giving to church including him, but was only lucky nobody took him to courts of law.

"We all belong to different churches and as leaders, whether there is an election or not we have to go to church and there is no way we can fail to give offertory. Since she was accused of giving to God I hope God will pass through you and bring her back in Parliament," he said.

Baryomunsi asked people to avoid mixing religion with the politics, which he said was old fashion of winning sympathy from voters. "I heard that some people were bringing back religion in Rukungiri politics, which was the trend of the politics in Uganda in the 1960s.

In NRM we are all equal that's why am here telling you to vote Winfred Masiko because she is NRM when time of worship come, I go to Roman Catholic she goes to Anglican Church (protestant) but in from of NRM we are all sisters and brothers.

Baryomunsi and Ntungamo district Woman Member of Parliament, Beatrice Rwakimari are in Rukungiri canvassing support for the NRM flag bearers ahead of the May 31 MP and town council elections.

The two legislators on Thursday traversed Kebisoni sub-county and Kebisoni town council where they asked voters to avoid supporting individuals, but vote the NRM flag bearers only.

"I heard some people are supporting some NRM members on some seats and others for other seats, it's wrong when you reach at the polling station, don't even see the candidate just tick the bus, the symbol for NRM," Minister advised.

Baryomunsi said the support he observed in Kebisoni sub-county and Kebisoni town council tells him that NRM will win with very big margin.

He said they were sent by the President to dispel rumours that NRM has lost support in Rukungiri.

"Now we have what to tell the President that FDCs are liars, Rukungiri is still yellow and will vote the bus in the coming elections whatsoever," he said.

Baryomunsi added that the reason why she was sent with Beatrice Rwakimari is because Rukungiri borders Ntungamo in North and Kanungu in the west they don't want another party between the two districts.

"When Rukungiri is not okay, it may affect Ntungamo and Kanungu because it borders two districts. Even Rukiga and Mitooma leaders will also come because they are all neighbours of this district and they all have NRM leaders only," he said.

At Kakibaya Primary and Kebisoni town council headquarters, the legislators asked voters to vote all NRM flag-bearers from Woman MP Winfred Masiko to LC3 chairperson Charles Byabakama and all other NRM flag-bearers in Kebisoni town council.

"When you mix opponents in team, they will not allow you to score a goal. We want members of our team who will pick things from President Yoweri Museveni and bring them to other team members up the last member at the village," he advised.

Beatrice Rwakimari said Winfred Masiko was an exemplary leader who should not miss in parliament for a single day. "You know the donations that President Yoweri Museveni brought here it was her initiative because he knew there was Masiko and Paula Turyahikayo in Rukungiri if it was FDC only he wouldn't have brought all those things in the district," she said.

She added that she was instructed not to go back to Kampala without Winfred Masiko and would keep here until they count elections and declare her as winner on 31st May.