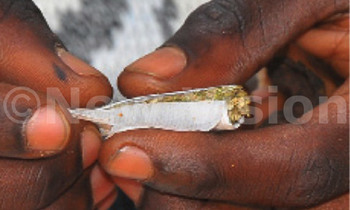 PIC: Many children witness violence in their homes which injures their mind and soul, luring them into drug misuse. (File photo)
KAMPALA - Evangelists from the United States of America have zeroed down to irresponsible fathers as one of the many factors fueling drug misuse and addiction today.
The ETeamGlobal team, an American based Non-Government Organization (NGO), said family is the first institution that God created and it is the foundation of every society.
"The father's role in parenting creates the child's vision as many look up to them.
"Most of the Ugandan Children only have biological fathers but lack functioning fathers who can get dedicated in loving, disciplining, and training and preparing them for a better future," Dr. Tim Robnett the president of ETeamGlobal said during a press briefing about their (ETeamGlobal) four day mission in Makindye, Rubaga division and Speke Resort Hotel Munyonyo, Kampala.
Robnett added that many children witness violence in their homes which injures their mind and soul, luring them into drug misuse.
"With irresponsible families, violence and unemployment, drug addictions will continue as the souls are damaged," he added.
OneEvangelists from the United States of America speake to the congregation.(Credit: Lawrence Mulondo)
ETeamGlobal's was invited for a mission in Uganda by the National Fellowship of Born Again Pentecostal of Uganda.
The mission which is organised under the theme 'Kampala for Jesus 2018' will run in two divisions of Kampala including Makindye and Rubaga from 16 to 20.
Robnet further explained that during their four- day mission, they will have recovery programmes for drug addicts such as counseling, empowerment and gospel preaching.
He added that the church has a strategic role in fighting drug abuse, adding that churches should always come up with Christian based programmes like bible studies and urban farming that can make addicts occupied and help them quit.
There will also be a youth outreach services at YMCA grounds Wandegeya and at Makerere University business school grounds Nakawa on May 16 and 18. The youth outreaches will focus on preventing of drug abuse and quitting among others.