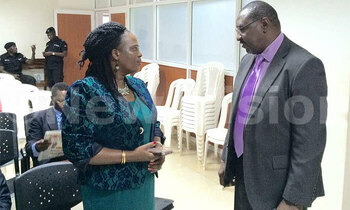 PIC: Minister Amongi (left) chats with lead counsel Ebert Byenkya before the start of the probe on Wednesday. (Credit: Denis Dibele)

LAND MATTERS

KAMPALA - Lands minister Betty Amongi on Wednesday made a second appearance before the land probe commission, chaired by Justice Catherine Bamugemereire.

Earlier, on Tuesday, showing up for the first time following summons, the minister was grilled during the probe public hearing conducted at the Archives and Records Centre in Nakasero.

Amongi was summoned to respond to several allegations, including accusations of intimidation from Toshak Manubhai Patel, a businessman.

He said she used her privileged position to intimidate him in a row over a departed Asian property in the city suburb of Kololo.

The sh5b property is registered as Plot 29, Acacia Avenue, Folio 14 LRV235.
Custodian Board property

After expulsion of Asians by former President Idi Amin in 1972, an estimated 8,965 properties previously owned by Asians were confiscated by government. The Departed Asians' Property Custodian Board was instituted by an Act of Parliament; Expropriated Properties Act 1982, to oversee the return of the properties to their rightful owners.


Patel accused the minister of fronting her company Amobet Investments Limited to take over management of the property.

When asked by lead counsel Ebert Byenkya whether she had prior knowledge of the property, Amongi responded that she did not.

"We, the shareholders, gave our managing director Mubiru powers. He scouted and had knowledge of the properties. We told him if he encountered challenges, then he would have to tell us," Amongi said.

"In this case, he told us he had met challenges and he had interacted with the Custodian Board. I only knew when he met challenges," she added.

Byenkya then said: "He (Mubiru) says industrial area land would be developed into a modern furniture showroom and Prince Charles property into apartments. I wonder how a person who is a shareholder and director would not know this."

Amongi responded: "We have given the managing director (Mubiru) the power to do as he pleases. However, if it requires our decision, he lets us know."
The team on the land probe commission

Conflict of interest denied

The minister refuted claims of conflict of interest.

She said long before she became minister, Mubiru had already spotted several properties, including the properties under contention.

"In 2010, Mubiru reported to us (shareholders) that through brokers, he had found out that there was available property from the Custodian Board. However, there were some property in Juba, which he went for.

"Then in 2015, he asked the brokers for the property, and they told him that the property was available," she said.

"I took what came from my managing director. He started on the property in 2010, and I became minister in 2016."

But Byenkya queried how Amobet applied for property on December 12, last year and were allocated the property two days later.

"So, it is only two days that you took to acquire the property on Acacia Avenue. Do you see the problem?" he said.