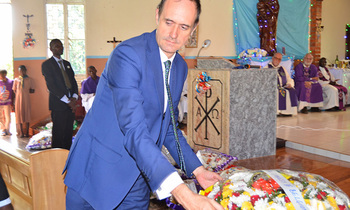 PIC: The ambassador of Belgium to Uganda, Hugo Verbist, lays a wreath on the casket bearing Fr Reynaert's remains. (Credit: Mathias Mazinga)
FR REYNAERT WAS ALWAYS JOLLY


OBITUARY- The Very Rev Fr Gerard Reynaert, a Belgian priest of the missionary society of White Fathers (also called Missionaries of Africa) who passed on at Nsambya Hospital last week was yesterday (Monday) laid to rest at St John the Baptist Mapeera-Nabulagala Catholic Church in Rubaga division.

Among thousands of Christians who bid farewell to Reynaert was the ambassador of the Kingdom of Belgium, His Excellency Hugo Verbist, who spoke highly of the 93-year departed priest.

"Fr Reynaert has exhibited admirable commitment and dedication to his apostolate, the Catholic Church and the people of Uganda. He dedicated his entire missionary life to serving Ugandans. His life was full of good deeds. He has made me and all the people of Belgium very proud,"

The Metropolitan Archbishop of Kampala Archdiocese, Dr Cyprian Kizito Lwanga (who presided over the funeral mass), also paid sweet tribute to Reynaert.

"My Vicar General, Msgr Charles Kasibante and I got an opportunity to work with him at Nakasongola Catholic parish, in Kasana-Luwero Diocese, when we were still major seminarians in 1972. He was a very wonderful priest who made us very comfortable. He was always jolly. He would never lose his temper. He was outgoing, humble and serviceable. In him we saw practical faith and fidelity. His missionary life and examples corresponded well with the vocation and rules of the Missionaries of Africa."

The Very Rev Fr Richard Nyombi, a senior member of the society of Missionaries of Africa, also paid tribute to Reynaert. "Although he was in retirement at our headquarters at Lourdel House, Nsambya, our spiritual grand-father and friend, Fr Reynaert remained active. He was our guest master and bursar. He would go to the market to buy food and the other necessities that we needed. He was a true custodian. He was a real apostle."

The East African Provincial Superior of the White Fathers, the Very Rev Fr Aloysius Ssekamatte said that the life and examples of Fr Reynaert "challenge us to be more welcoming and caring to our brethren, especially the elderly."

Who was Fr Reynaert?
The Very Rev Fr Gerard Reynaert was born at Passchendale in the Catholic Diocese of Brugge, Belgium on October 22, 1925. He joined the White Fathers' Novitiate in Versenare, Belgium in 1947. He took his Missionary Oath in the society of the Missionaries of Africa (White Fathers) at Heverlee (Belgium) on July 21, 1951. He was subsequently ordained a priest (at Heverlee) on April 4, 1952.

Reynaert arrived in Uganda in 1954. He was subsequently appointed to Nkozi parish (Mpigi district), Kisubi Seminary, Bujuni parish (Hoima), Busuubizi TTC, Nswanjere Preparatory Seminary, Lubaga Cathedral parish, Nandere parish (Kasana-Luweero diocese) and Nakasongola parish.
He also later worked at parishes like Vvumba, Ndibata and Kasambya (in Kiyinda-Mityana diocese), Nabulagala and Lourdel House (Nsambya). He succumbed to kidney-related complications at Nsambya Hospital May 3, 2018.
Rev Fr Gerard Reynaert laid to rest at St John the Baptist Mapeera-Nabulagala Catholic Church in Rubaga division. (Credit: Mathias Mazinga)
Fr Aloysius Ssekamatte, the Provincial of the White Fathers in East Africa, sprinkles holy water on Fr Reynaert's casket. (Credit: Mathias Mazinga)
Archbishop Cyprian Kizito Lwanga incenses the casket bearing the remains of Fr Reynaert during his funeral on Monday. (Credit: Mathias Mazinga)