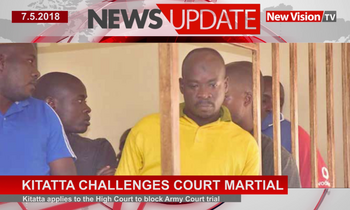 COURT

KAMPALA - The army court has deferred the bail ruling of boda boda 2010 patron Abdallah Kitatta to May 21 because it was not ready.

On Monday , the General Court Martial (GCM) presided over by Lt-Gen Andrew Gutti postponed the case after his advisor, Gideon Kattinda said he did not have time to deliberate everything in the submissions of the lawyers.

"Both prosecution and defence made lengthy submissions and I did not have time to read everything," he said.


Kitatta also complained that he is being detained at Makindye Military barracks in a room where he does not see light and have no space to pray from, which is affecting his health.

Therefore, his lawyer Shaban Sanywa requested court to consider detaining the accused at Luzira Prison, which fell on the deaf ear of the chairman who advised his lawyer to visit the facility.

Subsequent to this, Kitatta, clad in a yellow t-shirt raised his hands expressing discontent with the court's decision.

Kitatta together with 12 other people are battling six counts including unlawful possession of firearms, live ammunitions, Military head gears and uniforms.

The military equipment includes two pistols, SMG rifle and 50 rounds of ammunition for the firearms, among others. The court is being presided over by Lt-Gen Andrew Gutti.

Meanwhile, Kitatta has also applied for bail at the High Court in Kampala. E