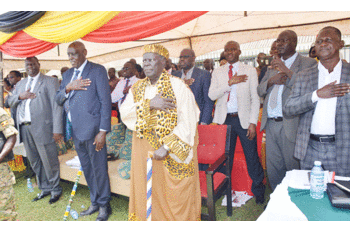 PIC: Teso leaders singing the Iteso anthem during the opening of the convention (Credit: Godfrey Ojore)
REGIONAL DEVELOPMENT

TESO - The Teso second annual convention was unwrapped on Friday, in Soroti town with the Iteso community to discuss the impending issue of compensation of their properties that were lost during insurgency.
The convention was opened by the Teso affairs minister Agnes Akiror who implored Iteso committee towards fighting deforestation that has affected the weather patterns in the region.
The convention attracted Iteso living in Uganda and those in the diaspora where they shall also assess themselves on why poverty levels are increasing despite the various Government programmes that have been put in the region.
According to statistics from Uganda bureau of statistics (UBOS), of 2016/2017, the poverty levels in Teso had gone up from 27% to 40.5%.
"The region has been a beneficiary of so many Government programmes such as NUSAF and PRDP but, the situation is not improving compared to other regions. These are the issues we shall look into as people of Teso region," said MP Patrick Okabe, the chairman of the convention.
Teso affairs minister, Agnes Akiror and Dr Kenneth Omona greeting Emirimor at the convention. (Credit: Godfrey Ojore)
Prime minister Dr. Ruhakana Rugunda will grace the function held under the theme championing the social economic transformation of Teso in our life time.
Okabe explained that they invited the Prime Minister Dr. Rugunda, so as to draw the attention of Government on impeding issues in the region that the Government has not fulfilled.
Last year, Iteso community living in United Kingdom met and gave a proposal to the Government to conclude the issue of compensation by this financial year.
They also proposed to Government to provide funds in this financial year for the construction of the Teso Palace.
"We hope that the Prime Minister gives us a feedback on those issues because we tabled the concerns to Government," Okabe said.
Emorimor Augustine Osuban is opening the convention where presentations on various developmental aspects shall be made.
Iteso attending the convention at Soroti hotel. (Credit: Godfrey Ojore)
Soroti municipality MP, Edmund Herbert Ariko , is expected to give a presentation on the role of leadership in development of Teso, while the NRM deputy treasurer, Dr. Kenneth Omona will be giving a presentation on NRM vision for Teso sub-region.
"Nobody will come to talk about development in our region except us. We are happy that the Iteso people have found time to discuss development," said the information minister Iteso Cultural Union Jonathan Maraka.
Maraka said that education standards have declined and the region had never sought to come to discuss it.
"This is timely and we are hopeful that deliberations shall regain our lost glory of being the region where wise men come from," Maraka said.
According to UBOS statistics Teso registers large number of pupils enrolling for primary education at 87% but that number diminishes at secondary level to 22.9%.