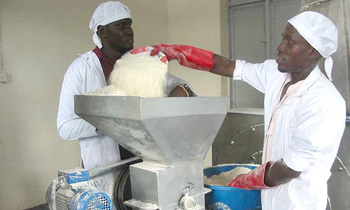 PIC: Ivan Okori (left) with one of his employees taking part in processing cassava root into flour as one way of adding value to cassava in Lira district. (Credit: Noah Jagwe)
AGRICULTURE
LIRA - Processors and farmers from northern region have argued that cassava can transform from a food crop to a cash crop if cassava-resistant planting materials have been provided to the farmers.

Ivan Okori, one of the processors, who is also the general manager of Wind Wood Millers in Lira district, argued that the region needs a "big push" for increased cassava production, adding that some of the varieties available to them are low-yielding.

"There is so much cassava can do, especially in the pharmaceutical industry," Okori argued.

As a crop, it has high industrial value, such as production of yoghurt, biscuits and other products.

However, Okori reported that their gardens have been attacked by brown streak and cassava mosaic.

The remarks were made during Creation of Awareness on Friday to the stakeholders and the public about the latest flash dryer technology introduced to ease the processing of cassava from tubers to cassava flour as a means of adding value to the crop.

The technology has been introduced in Apac and Lira districts by Africa Innovations Institute (AFRII).
Sam Opio Ocheng, the proprietor of Adyaka Wholesalers Limited, in his cassava garden. (Credit: Noah Jagwe)


So far, 3,000 cassava farmers have been registered and 1,000 have been already contracted to supply the roots to the newly established flash dryers in order to process it into flour. A factory price for cassava root goes for sh150-200 and 20,000-25000 for a sack of stem.

Sam Opio Ocheng, the proprietor of Adyaka Wholesalers Limited, Apac district, said a number of farmers are increasingly taking part in cassava production, but no available markets for the produce.

"We were told about value addition and we did our best. People have grown more cassava and AFRII has supported us with the flash dryer machine, but we don't have the market to sell our products," Opio said.

Following the introduction of the technology in the two districts now the demand for cassava root has grown close to 800 acres to sustain the supply to the factories for their operation.

The AFRII communications officer, Sylvia Ayebale, said the technology has been brought in Uganda by AFRII under the project, Cassava Adding Value for Africa phase Two (CAVA two).

"CAVA II has successfully set up two fully operational cassava processing factories in the two districts. The technology has the capacity to process 3-7 tonnes of High Quality Cassava Flour (HQCF) in a shift per day."

Some of the women employed at a flash dryer to peel cassava before it can be processed into flour. (Credit: Noah Jagwe)


Ayebale said Investments in flash drying technology have enabled farmers to harvest cassava during both wet and dry seasons, ensured optimisation of their resources and increased availability of HQCF for markets.

She said HQCF product is highly valued on the market, both locally and regionally as it is used in various industries of breweries, bakeries, composite flour millers, biscuit and paperboard manufacturers, which can be beneficial to the farmer and the processor.