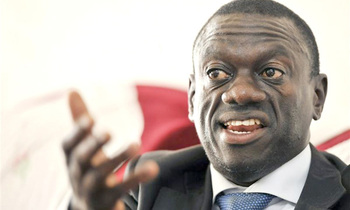 PIC: FDC former flagbearer Kizza Besigye says President Museveni is not addressing the problem of striking doctors, but wants to waste the taxpayers' money in hiring Cuban doctors.
BYELECTION

RUKUNGIRI - Former FDC presidential flagbearer, Col Dr. Kizza Besigye, has reacted to President Yoweri Museveni's decision to hire medical doctors from Cuba to replace the striking medical workers in Uganda.

"You heard Mr. Museveni saying that Ugandan doctors do not know what they are doing and now wants to hire doctors from Cuba to solve Uganda's problem.

"He should have asked why Ugandan doctors are not good and address that, but not hiring as if we are a young country that cannot sustain itself," said the Opposition politician.

Besigye said this during the launch of the FDC manifesto for party flagbearer Betty Bamukwatsa Muzanira, who is contesting for Rukungiri Woman MP byelection.

Reports indicate that government intends to hire about 200 Cuban doctors, in a plan that was mooted during the doctors' strike in protest of poor pay and poor working conditions.

Besigye said Museveni was not addressing the problem, but only wasting tax payers' money in hiring Cuban doctors.

"He has been here for more than 30 years now, you mean up to now he did not know that he does not have doctors? Why is he hiring today?"

Besigye wondered whether Museveni will also hire teachers, agriculture extension workers and other government workers whenever they demand their rights.

Read more: What Museveni said on Cuban doctors

Meanwhile, the former presidential candidate praised the people of Rukungiri for defying the NRM, which he said was why Museveni had to carry billions of money to distribute to people of Rukungiri.

He also asked those who received money from the President to bring to him a tenth of what they got. "It was your tax, let us use it in this campaign which aims at changing the whole country for better."

About 28 groups, including that of bodabodas, brought to Besigye envelopes containing money which they said was a tenth of what the President had given them.

Besigye urged supporters gathered at Rukungiri main stadium that they form strong power 10 until they finish elections.

He advised every cell should make groups of ten people and submit the list and their leaders to the district office through parish co-ordinators, who will be responsible for mobilising the votes, protect them and report the results to the office at the parish, sub-county and at the district.
PIC: Besigye with Bamukwatsa in Rukungiri after the nominations on Wednesday


The leader of Opposition in Parliament, Winfred Kiiza, said all the leaders who want the change will camp in Rukungiri until June 1, when they will go back with Bamukwatsa.

"I am lonely in the whole of western region, I don't have any woman whom I can share with political issues. I request you to give me Muzanira so that at least I get somebody to talk to when we are in our region," she said.

Kiiza directed Rukungiri Municipality MP Rolland Mugume Kaginda to bring all Opposition MPs and allocate them areas where they will operate from until the end of the election.

She said she would camp in Nyakishenyi sub-county, where she got information that it is the place Winfred Masiko uses to allegedly rig elections.

On his part, Kampala Lord Mayor Erias Lukwago urged supporters to observe law during and after elections, saying he was there to defend them in courts of law in case they are accused of anything.

He said he is ready to transverse the whole of Rukungiri district with Bamukwatsa to strengthen the support.

Kyadondo East MP Robert Sentamu Kyagulanyi aka Bobi Wine, said he will never excuse MPs who voted for constitutional amendment, which he maintained was not the will of the people.
Also related to this story

Nominations on for Rukungiri byelection

Museveni speaks out on importing Cuban doctors